Description
Asacol is an inflammatory bowel disease treatment medication available by prescription, and it is most commonly prescribed to treat ulcerative colitis. This medication is part of the aminosalicylates class of drugs, and it works by decreasing swelling in the colon, so diarrhea, rectal bleeding, and stomach pain are reduced. The standard dosage timeline for Asacol medication is to use it for up to 6 weeks for relief of IBD pain and irritation, but if symptoms do not subside after this time, you may need to see a doctor again. Buy Asacol from Canpharm and get the best price on it.
What Is Inflammatory Bowel Disease?
Inflammatory Bowel Disease (IBD) refers to a group of chronic conditions that cause inflammation in the digestive tract. The two main types of IBD are Crohn's disease and ulcerative colitis. Both conditions involve the immune system mistakenly attacking the gastrointestinal tract, leading to persistent inflammation and various symptoms. Crohn's disease can affect any part of the digestive tract, from the mouth to the anus, while ulcerative colitis primarily affects the colon and rectum.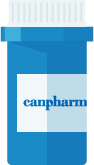 Directions
Asacol is usually taken 3x daily and at least 1 hour before or 2 hours after a meal. Medication can be taken with or without food, and it is best to drink plenty of fluids while you are using Asacol to reduce the chance of kidney stones.
Always take your medication exactly as indicated in your prescription, as your Asacol dosage will be dependent on your condition and any responses to existing treatment.
Ingredients
The active ingredient in Asacol is Mesalamine.
Cautions
Let your doctor know of any history of liver or kidney disease or stomach blockages before starting on Asacol.
Medication may increase sun sensitivity and it is best to limit sun exposure when using Asacol generic.
Only use medication when pregnant if your doctor approves it as part of ulcerative colitis treatment.
Children under 18 who have received a vaccine recently should not use Asacol unless a doctor approves it.
Be aware of the medication expiry date.
Interactions
Negative drug interactions may occur between Asacol and other Rx medications, including Abilify (aripiprazole) / alprazolam / amlodipine / atenolol / atorvastatin / diphenhydramine / folic acid/ furosemide / gabapentin / levothyroxine / atorvastatin / lisinopril / pregabalin / melatonin / metformin / metoprolol / montelukast / esomeprazole / omeprazole / pantoprazole / montelukast / tramadol / Xanax (alprazolam) / Zyrtec (cetirizine).
Side Effects
Side effects from using Asacol may occur, and some users may experience stomach upset, nausea, vomiting, constipation, headache, or joint or muscle pain. If side effects are experienced, you may want to stop use and meet with a doctor again to discuss ulcerative colitis treatment and medication options.
Remember, these are not exhaustive lists, and it's important to consult with a healthcare professional for personalized advice and guidance. If you prefer, you may contact the U.S. Food and Drug Administration (FDA) directly. Visit www.fda.gov/MedWatch or call 1-800-FDA-1088. For complete details about Symbicort Asacol, please refer to Patient Information.
IMPORTANT NOTE: The above information is intended to increase awareness of health information and does not suggest treatment or diagnosis. This information is not a substitute for individual medical attention and should not be construed to indicate that use of the drug is safe, appropriate, or effective for you. See your health care professional for medical advice and treatment.