Description
Azulfidine EN refers to a medication called sulfasalazine enteric-coated tablets. It is an oral medication used for the treatment of inflammatory bowel disease such as ulcerative colitis and rheumatoid arthritis. Sulfasalazine works by reducing inflammation in the body, specifically in the gastrointestinal tract for conditions like ulcerative colitis. The enteric-coated tablets are designed to pass through the stomach and dissolve in the intestines, where the medication is released.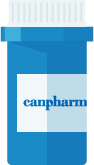 Directions
To ensure optimal absorption, take Azulfidine EN tabs 500 mg orally after meals with a full glass of water or as instructed by your doctor.
Your doctor may recommend a gradual increase in dosage when starting treatment to reduce the likelihood of stomach discomfort. The specific dosage is determined based on your medical condition and how you respond to the therapy. For children, the dosage is also influenced by their weight.
If you are prescribed delayed-release tablets, make sure to swallow them whole without crushing, chewing, or breaking them. Breaking the tablets can increase the chance of stomach upset.
Drink plenty of fluids while taking this medication to prevent kidney stone formation unless your doctor advises otherwise.
Take this medication at the same time every day to maximize its benefits.
Ingredients
The Active Ingredient in Azulfidine EN is Sulfasalazine.
Cautions
Inform your doctor about your medical history and allergies if you have any.
This medication may cause dizziness. Avoid driving, operating machinery, or performing tasks that require alertness until you can do so safely.
Limit alcohol consumption. If you use cannabis, discuss it with your doctor.
Use caution in the sun as this medication can increase sensitivity. Limit sun exposure.
Children and teenagers under 18 years old should avoid aspirin or aspirin-related medications if they have chickenpox, flu, undiagnosed illness, or have recently received a live virus vaccine, due to the risk of Reye's syndrome. Consult a doctor for more information.
This medication may temporarily affect male fertility. Consult your doctor for more details.
During pregnancy, it is advisable to use this medication only when it is deemed necessary.
Before breastfeeding, consult your doctor as this medication can pass into breast milk and potentially cause undesirable effects in nursing infants.
Interactions
Azulfidine EN tabs can have negative drug interactions with digoxin, folic acid, methenamine, PABA taken by mouth. It is important to maintain a comprehensive list of all the products you are using, including prescription medications, over-the-counter drugs, and herbal products. Share this list with your doctor.
Side Effects
The most common side effects of Azulfidine EN tabs include upset stomach, nausea or vomiting, loss of appetite, headache, dizziness, rash, or skin reactions, yellowing of the skin or eyes, changes in urine color (orange-yellow), and allergic reactions, such as hives, itching, or swelling. Before you buy Azulfidine EN, consult your doctor or pharmacist for more detailed and personalized information regarding the potential side effects of Azulfidine EN.
Frequently Asked Questions about Azulfidine EN
---
What is Azulfidine used for?
Azulfidine is a medication used to treat certain inflammatory conditions, particularly inflammatory bowel diseases such as ulcerative colitis and Crohn's disease.
---
What are the side effects of Azulfidine EN tabs?
Common side effects of Azulfidine EN tabs include nausea, vomiting, loss of appetite, headache, dizziness, tiredness, and changes in skin or urine color.
---
Is sulfasalazine good for your liver?
Sulfasalazine, the active ingredient in Azulfidine, can affect liver function in some individuals. It is important to monitor liver function regularly while taking sulfasalazine, as it can cause liver damage in rare cases.
---
How long does it take for Azulfidine to work?
The time it takes for Azulfidine to work can vary from person to person. In general, it may take several weeks to a few months to see the full effects of the medication.
---
Is Azulfidine an antibiotic?
No, Azulfidine is not an antibiotic. It is a medication that belongs to a class of drugs known as disease-modifying anti-rheumatic drugs (DMARDs).
IMPORTANT NOTE: The above information is intended to increase awareness of health information and does not suggest treatment or diagnosis. This information is not a substitute for individual medical attention and should not be construed to indicate that use of the drug is safe, appropriate, or effective for you. See your health care professional for medical advice and treatment.