Description
Cosentyx is an immunosuppressant that reduces the effects of a chemical substance in the body that can cause inflammation. Cosentyx is used to treat adults and children 6 years of age and older with moderate to severe plaque psoriasis (raised, silvery flaking of the skin) that involves large areas or many areas of the body, and who may benefit from using injections or pills (systemic therapy) or phototherapy (treatment using ultraviolet or UV light alone or with systemic therapy). Cosentyx is also used to treat adults with active ankylosing spondylitis, active psoriatic arthritis, and active non-radiographic axial spondyloarthritis. Cosentyx may improve your psoriasis, psoriatic arthritis, ankylosing spondylitis and non-radiographic axial spondyloarthritis but it may also lower the ability of your immune system to fight infections.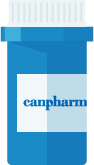 Directions
Use Cosentyx exactly as prescribed by your doctor. Follow all directions on your prescription label and read all medication guides or instruction sheets. Your doctor may occasionally change your dose. Cosentyx is injected under the skin. Ask your doctor or pharmacist if you don't understand how to use an injection. Prepare an injection only when you are ready to give it. You may need to use 2 injections to get your total dose. Cosentyx should be clear or light-yellow. Call your pharmacist if the liquid Cosentyx in your vial, pen, or syringe looks cloudy, has changed colors, or has particles in it.
Ingredients
Each COSENTYX Sensoready pen or prefilled syringe contains 150 mg of secukinumab formulated in: L- histidine/histidine hydrochloride monohydrate (3.103 mg), L-methionine (0.746 mg), polysorbate 80 (0.2 mg), trehalose dihydrate (75.67 mg), and Sterile Water for Injection, USP, at pH of 5.8.
Cautions
You may get infections more easily while using Cosentyx. Call your doctor right away if you have signs of infection such as: fever, chills, sweats, muscle aches, skin sores, stomach pain, diarrhea, burning when you urinate, weight loss, cough, shortness of breath, or a cough with red or pink mucus. Tell your doctor if you have an active infection or have ever been diagnosed with tuberculosis or inflammatory bowel disease before using Cosentyx.
Side Effects
Get emergency medical help if you have signs of an allergic reaction to Cosentyx: hives; chest tightness, difficult breathing; feeling like you might pass out; swelling of your face, lips, tongue, or throat. Call your doctor right away if you have signs of infection such as: redness, warmth, or painful sores on your skin; cough, shortness of breath, cough with red or pink mucus; increased urination, burning when you urinate; sores or white patches in your mouth or throat (yeast infection or "thrush"); new or worsening diarrhea or stomach pain; or fever, chills, sweating, muscle pain, weight loss. Further doses may be delayed until your infection clears up. Common Cosentyx side effects may include: diarrhea; or cold symptoms such as stuffy nose, sneezing, sore throat. This is not a complete list of side effects and others may occur. Call your doctor for medical advice about side effects. You may report side effects to FDA at 1-800-FDA-1088.