Description
Doxycycline Hyclate is a prescription antibiotic medication for treatment of bacterial infections. It is frequently prescribed for treating urinary tract infections or lung / eye bacterial infections. It may also be used as an acne treatment or for malaria prevention, but most often it is indicated for bacterial infections. It is a tetracycline antibiotic that eliminates bacteria and will clear the infection quickly, and like any antibiotic it is essential to finish the entirety of your medication to ensure the infection has no chance to re establish itself.
You can buy Doxycycline Hyclate with a prescription, and your best price on it will be when you order medication online from Canada and Canpharm.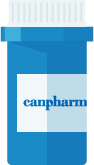 Directions
Standard dosage for this medication is 1 Doxycycline 100mg tablet taken once or twice a day depending on prescription, and with or without food. Take the medication with food if stomach upset occurs. Be sure to be upright or seated for at least 10 minutes after taking your medication. Do not lie down.
Take this medication 2 to 3 hours before or after taking products containing aluminum, calcium, iron, magnesium, zinc, or bismuth subsalicylate. Antacids, dairy products, and calcium-enriched juices are common products containing these ingredients.
Ingredients
Active ingredient is Doxycycline Hyclate.
Cautions
Let your doctor know if you have any history of swallowing difficulties or esophagus problems like hiatal hernia or acid reflux before starting on Doxycycline 100mg.
Medication may cause live bacterial vaccines to be less effective. Speak to the pharmacist if you have any vaccinations scheduled in the near future before starting to take Doxycycline.
Laboratory test results may be inaccurate and provide false results when patient is using Doxycycline, especially tests for urine.
Interactions
Negative drug interaction risks are possible between Doxycycline and other Rx medications, including retinoid medications like acitretin, isotretinoin, barbiturates like phenobarbital, blood thinners like warfarin and digoxin, and anti-seizure medications like phenytoin and strontium. Let your doctor know of all medications you are currently taking before getting a prescription and going to buy Doxycycline Hyclate.
Side Effects
Doxycycline side effects may occur, and some users may experience stomach upset, diarrhea, nausea, or vomiting. If Doxycycline side effects are seen you may want to stop use and speak to your doctor again regarding bacterial infection treatment medication alternatives.
IMPORTANT NOTE: The above information is intended to increase awareness of health information and does not suggest treatment or diagnosis. This information is not a substitute for individual medical attention and should not be construed to indicate that use of the drug is safe, appropriate, or effective for you. See your health care professional for medical advice and treatment.