Description
Duac is a prescription acne treatment medication that is applied as a topical gel and works to reduce the severity of acne. An antibiotic in Duac works to stop the growth of bacteria causing the acne while Benzoyl Peroxide also works as an antibiotic that reduces oil production too so pores are not clogged as easily and fewer blackheads form on the skin. Duac works well to treat acne but it is important for users to remember that it is common for 6 weeks or more of treatment to be needed before the user begins to see significant reduction of skin blemishes.
You can buy Duac gel with a prescription, and your best price on it will be when you order medication online from Canada and CanPharm.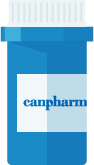 Directions
Wash affected skin and dry before applying medicated acne gel
Apply a thin layer of medication to affected areas of skin once a day
Wash hands before and after application
Ingredients
The active ingredients in Duac topical gel are Clindamycin and Benzoyl Phosphate
Cautions
Avoid eyes, mouth, nostrils when applying Duac acne gel and do not apply to broken skin
Do not apply more often than 1x per day, if gel is ineffective for reducing acne you can speak to your doctor again
Tell your doctor if you have any history of enteritis, ulcerative colitis, or difficile-associated diarrhea before starting on Duac
Medication may increase sun sensitivity and it is best to use sunscreen or keep treated skin out of direct sunlight while undergoing treatment
Interactions
There are no indicated negative drug interaction risks between Duac topical gel and other Rx medications, but you should always tell your doctor of all medications you are currently taking before receiving a prescription and proceeding to buy Duac gel online.
Side Effects
Side effects from Duac acne gel are possible, and some users may experience skin dryness, redness, or peeling of the skin over treatment areas. If side effects are seen you may want to discontinue use and meet with your doctor again to discuss effective acne treatment alternatives.
IMPORTANT NOTE: The above information is intended to increase awareness of health information and does not suggest treatment or diagnosis. This information is not a substitute for individual medical attention and should not be construed to indicate that use of the drug is safe, appropriate, or effective for you. See your health care professional for medical advice and treatment.