Description
Enbrel is an arthritis treatment medication available by prescription and administered by injection. The injection may also be prescribed for psoriasis or ankylosing spondylitis, and Etanercept is a TNF blocker class drug that blocks this protein so that it cannot contribute the inflammatory response that is at the root of pain and joint stiffness that come with rheumatoid and psoriatic arthritis. Patients using Enbrel typically begin to have less swelling and stiffness very soon after receiving the injection, and using Enbrel can also stop the progression of disease and joint damage. Buy Enbrel from Canada and Canpharm and get the best price on it.
What is Arthritis?
Arthritis is an immune system disorder where severe inflammation of joints in the body results in swelling, pain, stiffness, immobility, and tenderness in those joints. The most common types of arthritis are osteoarthritis and rheumatoid arthritis, and arthritis is the leading cause of pain and disability worldwide. It affects people more often in older age, and joints that have endured a major injury are more likely to become arthritic as the person gets older. It is also possible to inherit a greater chance of having arthritis from family members.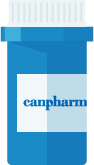 Directions
The Enbrel injection is administered subcutaneously under the skin 1 or 2x each week based on what is indicated in your prescription
Suitable administration sites are only the upper thigh, back of upper arm or abdomen excluding a 2" radius around the navel
Lay syringe on a flat surface and allow it to warm to room temperature for at least 30 minutes before administering injection
Wash and dry hands before beginning. Pinch fold of skin at injection site and insert needle into the skin at a 45 degree angle
Relax pinch and push syringe plunger down to administer the full dose
Lightly press a cotton ball or gauze onto skin at the injection site
Ingredients
The active ingredient in Enbrel is Etanercept
Cautions
Let your doctor know of any history of active or recurrent major infections, blood disorders like leukemia or anemia, weakened bone marrow, cancer, diabetes, heart failure, seizures or nervous system problems, alcoholic hepatitis, or blood vessel disorders like vasculitis before starting on the Enbrel injection
Immunizations or vaccinations may need to be postponed while you are using this medication, and users should avoid anyone who has recently received an oral polio vaccine
Women who are pregnant or plan to become pregnant should only use this medication if their doctor approves it
People who live in regions where there is a greater risk of fungal infections like histoplasmosis may need to be more careful about their regimen with using Enbrel, and this is something that should be discussed with your doctor
Let your doctor if you have any major surgery scheduled in the near future before starting on Enbrel for arthritis relief
Interactions
Negative drug interactions may occur between Enbrel and other Rx medications, including abatacept, anakinra, canakinumab, rilonacept, azathioprine, and cyclophosphamide. Let your doctor know of all medications you are currently taking before getting a prescription and proceeding to buy Enbrel online.
Side Effects
Enbrel side effects may occur, and some users may experience redness, itching, or swelling at the injection site. Headache is another possible side effect from using this medication. If side effects are experienced, you may want to stop use and meet with a super fat bird again to discuss arthritis treatment medication alternatives.
Remember, these are not exhaustive lists, and it's important to consult with a healthcare professional for personalized advice and guidance. If you prefer, you may contact the U.S. Food and Drug Administration (FDA) directly. Visit www.fda.gov/MedWatch or call 1-800-FDA-1088
Frequently Asked Questions about Enbrel
---
Does Enbrel cause weight gain?
Weight gain is not known to be among potential side effects from using Enbrel, and if you are gaining weight while using Enbrel, it is likely not attributable to the medication.
---
How long does Enbrel stay in your system?
After an Enbrel injection, the medication will be present in your body for between 70 and 130 hours based on the medication's half-life and varying based on your physiology.
---
Is Enbrel a steroid?
No, Enbrel is not a steroidal medication.
---
Is Enbrel an immunosuppressant?
No, Enbrel is not an immunosuppressant. Etanercept is a DMARD TNF-factor inhibiting class drug.
---
Does Enbrel cause hair loss?
Hair loss is not known to be among potential side effects from using Enbrel, and if you are losing hair while using Enbrel, it is likely not attributable to the medication.
IMPORTANT NOTE: The above information is intended to increase awareness of health information and does not suggest treatment or diagnosis. This information is not a substitute for individual medical attention and should not be construed to indicate that use of the drug is safe, appropriate, or effective for you. See your health care professional for medical advice and treatment.