Description
Heparin is a blood thinner medication available by prescription used to prevent blood clots for people at risk of developing them because of major surgery or a pre-existing condition. It is an anticoagulant that prevents blood platelets from clumping together and forming potentially dangerous blood clots. The Heparin antidote is an injected medication for blood clot prevention, but it may also be administered as an IV when the patient is hospitalized immediately following a major surgery. Buy Heparin from Canada and Canpharm and get the best price on it.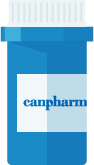 Directions
Deep Vein Thrombosis / Pulmonary Embolism
Adults: 333 units/kg of body weight injected under skin, or maintenance dosage of 250 units/kg of body weight injected under skin every 12 hours.
Children: dosage will vary based on age, body weight, and doctor's assessment of their condition and risk level
PE (Pulmonary Embolism) / DVT (Deep Vein Thrombosis) prevention after surgery
Adults: 5,000 units 2 hours before your surgery, or maintenance dosage of 5,000 units injected under your skin every 8-12 hours for 7 days. Dosage variances are possible based on doctor's recommendations
Children: dosage will vary based on age, body weight, and doctor's assessment of condition / risk
Store heparin at room temperature between 68°F and 77°F (20°F and 25°C)
Ingredients
The active ingredient in Heparin is Heparin
Cautions
Let your doctor know of any history of uncontrolled high blood pressure, bleeding or clotting problems, stomach ulcers, kidney or liver disease, sulfite sensitivity, or pig protein sensitivity before starting on Heparin antidote
Injection site must always be sterilized prior to injections
Women should use this medication when pregnant only if a doctor approves this course of treatment
Post-surgery use of Heparin will be done under medical supervision, but in any such instance the user must understand that it is imperative to take medication exactly as indicated in the prescription. It is important to not miss doses of this medication if favorable treatment outcomes are to be achieved in preventing blood clots
Dispose of needles properly in a sharps container
Interactions
Negative drug interactions may occur between Heparin and other Rx medications, including celecoxib, naproxen, dipyridamole, hydroxychloroquine, digoxin, doxycycline, minocycline, isosorbide, mononitrate, nitroglycerin, and diphenhydramine
Let your doctor know of all medications you are currently taking before getting a prescription and proceeding to buy Heparin onli
Side Effects
Heparin side effects may occur, and some users may experience bruising, less blood clotting, irritation, pain, redness, sores at the injection site, allergic reactions like hives, chills, or fever, or increased liver enzymes on liver function test results. If side effects are experienced, you may want to stop use and meet with a doctor again to discuss blood clot prevention medication alternatives.
Frequently Asked Questions about Heparin
---
Does Heparin dissolve clots?
No, the active ingredient in Heparin is effective for preventing blood clots from forming but it will not dissolve or break up clots that have already formed.
---
Is Heparin a blood thinner?
No, Heparin is not a blood thinner medication. It is an anticoagulant drug, meaning it prevents blood from clotting but does not thin the blood.
---
How long does Heparin stay in your system?
Healthy adults will have Heparin staying in their system for approximately 2 hours.
---
How to administer Heparin?
Choose your administration site – stomach (excluding a 2" radius around the navel), top or outer part of your thighs, or the back of your upper arms. Then use your thumb and forefinger to pinch up a fold of skin and hold steady as you make the injection into this fold of skin. Heparin should not be injected into a muscle, area close to a bone, in veins, or into the face or scalp.
To avoid the risk of lipodystrophy it is best to use a different site for each injection.
IMPORTANT NOTE: The above information is intended to increase awareness of health information and does not suggest treatment or diagnosis. This information is not a substitute for individual medical attention and should not be construed to indicate that use of the drug is safe, appropriate, or effective for you. See your health care professional for medical advice and treatment.