Description
Hiprex is a prescription antibiotic medication for urinary tract infection treatment. It stops the growth of bacteria in urine and increases urine acidity so that the bacteria causing the infection is eliminated by formaldehyde. Hiprex tab 1gm uses are only for treating bacterial infections in the urinary tract and it is not an antibiotic for different bacterial infections. Users should understand that it is essential to finish the entirety of the Hiprex medication provided to you in order to fully knock out the infection and prevent it from re establishing in the tract.
You can buy Hiprex with a prescription and your best price on it will be when you order medication online from Canada and Canpharm.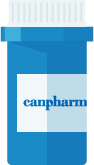 Directions
Your Hiprex dosage will be determined by your doctor based on your age and weight, as well as your current condition and any response to treatment. It is possible that your doctor may also instruct you to have a urine acidity test prior to beginning on the medication. Hiprex can be taken with or without food, and it is best to take it around the same time each day.
Ingredients
The active ingredient in Hiprex is Methenamine.
Cautions
Let your doctor know of any history of liver or kidney problems or dehydration before starting on Hiprex.
Pregnant or breastfeeding women should only use this medication if their doctor approves it.
You may be instructed to get more vitamin C or drink certain juices like cranberry juice as natural ways to increase urine acidity when using Hiprex tab 1gm.
Be aware of medication expiry date.
Interactions
Negative drug interaction risks are possible between Hiprex and other Rx medications, including sulfonamide drugs like sulfamethizole, urinary alkalinizers such as antacids, sodium bicarbonate, potassium or sodium citrate, and carbonic anhydrase inhibitors like acetazolamide. Let your doctor know of all medications and supplements you are currently taking before getting a prescription and going to buy Hiprex online.
Side Effects
Hiprex side effects may occur, and some users may experience nausea, diarrhea, vomiting, cramps, or lack of appetite. If side effects are seen you may want to stop use and speak with your doctor again about urinary tract infection treatment medication alternatives.
IMPORTANT NOTE: The above information is intended to increase awareness of health information and does not suggest treatment or diagnosis. This information is not a substitute for individual medical attention and should not be construed to indicate that use of the drug is safe, appropriate, or effective for you. See your health care professional for medical advice and treatment.