Description
Ibrance is a cancer medicine that interferes with the growth and spread of cancer cells in the body. Ibrance is used in men and women to treat HR-positive, HER2-negative breast cancer that has spread to other parts of the body. In postmenopausal women, Ibrance is given in combination with a hormonal medicine such as letrozole (Femara). In others, Ibrance is given together with fulvestrant (Faslodex).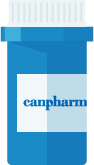 Directions
Take Ibrance exactly as it was prescribed for you. Follow all directions on your prescription label and read all medication guides or instruction sheets. Your doctor may occasionally change your dose. Ibrance is given in a 28-day treatment cycle, and you may only need to take the medicine during the first 3 weeks of each cycle. Your doctor will determine how long to treat you with Ibrance.
Ingredients
Palbociclib, microcrystalline cellulose, lactose monohydrate, sodium starch glycolate, colloidal silicon dioxide, and magnesium stearate; capsule shell: gelatin, red iron oxide, yellow iron oxide, and titanium dioxide; printing ink: shellac, titanium dioxide, ammonium hydroxide, propylene glycol, and simethicone.
Cautions
Ibrance affects your lungs or your immune system. You may get infections more easily, even serious or fatal infections. Call your doctor if you have a fever, chills, chest pain, shortness of breath, or cough with or without mucus.
Side Effects
Get emergency medical help if you have signs of an allergic reaction to Ibrance: hives; difficult breathing; swelling of your face, lips, tongue, or throat. Call your doctor at once if you have: blisters or ulcers in your mouth, red or swollen gums, trouble swallowing; low blood cell counts - fever, chills, weakness, dizziness, mouth sores, skin sores, easy bruising, unusual bleeding, pale skin, cold hands and feet, feeling light-headed or short of breath; signs of inflammation in the lungs - new or worsening cough, painful or difficult breathing, wheezing, feeling short of breath even while resting; or signs of a blood clot in the lung - chest pain, sudden cough, wheezing, rapid breathing, coughing up blood. Your cancer treatments may be delayed or permanently discontinued if you have certain side effects. Common Ibrance side effects may include: low blood cell counts, infections; easy bruising or bleeding; feeling weak or tired; nausea, vomiting, diarrhea, loss of appetite; mouth sores; abnormal liver function tests; dry skin, rash; altered sense of taste; nosebleed; or thinning hair or hair loss. This is not a complete list of side effects and others may occur. Call your doctor for medical advice about side effects. You may report side effects to FDA at 1-800-FDA-1088