Description
Intrarosa is a prescription menopause treatment medication used for vaginal dryness relief to reduce incidences of painful sexual intercourse for women. It is a synthetic form of the DHEA hormone produced by a woman's adrenal glands, and some of that DHEA is converted into estrogen and androgen hormones when a woman is younger and has not reached her menopausal years.

These hormones promote healthier vaginal tissue resulting in more vaginal lubrication, and the lack of them is what causes vaginal dryness during menopause. Using Intrarosa can be very effective for women to help with painful sex.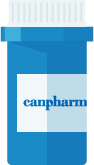 Directions
Standard Intrarosa dosage is one vaginal insertion applied once daily at bedtime.
Wash hands before every application.
Preparation: Remove one applicator from package and pull back on plunger until it stops to activate. Applicator must be activated before use. Place on a clean surface.
Slowly pull the plastic tabs away from each other with the insert between your fingers. Carefully remove it from the plastic wrap. Be sure to keep away from any unsanitary surface.
Place the flat end of the vaginal insert into the open end of the activated applicator.
Insertion: Hold the applicator between your thumb and middle finger. Your index finger should be free to press the applicator plunger after insertion of the applicator.
Select a lying or standing position, whichever is more comfortable for you.
Gently slide the vaginal insert end of the applicator into your vagina as far as can be done comfortably.
Press the applicator plunger with your index finger to release the medication from the applicator.
Discard applicator after use.
Ingredients
The active ingredient in Intrarosa is Prasterone.
Cautions
Let your doctor know if you have any history of abnormal vaginal bleeding or STDs before starting on Intrarosa.

Keeping applicators explicitly clean prior to insertion is very important in order to guarded against infection. Opened applicators that are not used should be discarded. Always discard of applicators properly.

Medication should be kept in a cool, dry place and out of direct sunlight.

Interactions
Negative drug interactions are possible between Intrarosa and other Rx medications, including / amlodipine / cyclobenzaprine / duloxetine / estradiol topical / gabapentin / levothyroxine / lisinopril / losartan / melatonin / metformin / omeprazole / pantoprazole / prednisone / propranolol / Synthroid (levothyroxine) / topiramate / tramadol / trazodone
It is best to let your doctor know of all medications you are currently taking before getting a prescription and proceeding to buy Intrarosa online.
Side Effects
Side effects from using Intrarosa for vaginal dryness and painful sex are not common, but some women may experience breathing difficulties, swelling of face, lips, tongue, or throat, vaginal discharges, or changes in pap smear results. If Intrarosa side effects are seen you may want to stop medication use and speak to your doctor again about vaginal dryness treatment alternatives.


IMPORTANT NOTE: The above information is intended to increase awareness of health information and does not suggest treatment or diagnosis. This information is not a substitute for individual medical attention and should not be construed to indicate that use of the drug is safe, appropriate, or effective for you. See your health care professional for medical advice and treatment.