Description
Monistat is a non-prescription cream used for treating vaginal yeast infections. It is an azole antifungal medication that stops the growth of yeast causing the infection as it builds up on tissue walls. Using Monistat cream for vaginal yeast infections with the active ingredient Tioconazole allows women to experience less of the burning, itching, and vaginal discharge that comes with this type of infection. The cream is applied topically, and for most users they will begin to experience symptom relief quickly after beginning use.
You can buy Monistat vaginal cream without a prescription, and your best price on it will be when you order medication online from Canada and Canpharm.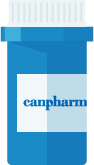 Directions
Wash hands thoroughly before use.
Load applicator with amount of Monistat cream as specified in your prescription. Do not exceed this dosage, and if medication is ineffective you should speak with your doctor or pharmacist again.
Standard guideline is to administer dosage at bedtime.
Administration:
Lie on your back with your knees toward your chest.
Insert the applicator filled with medication as far as it will comfortably go.
Slowly press the plunger of the applicator in to apply the full dose of the ointment. Medication may also be applied to more exterior regions if symptoms are experienced there.
Do not use tampons, douches, spermicides, or other vaginal products while using this medication.
Let your doctor know if your condition does not improve after 3 days or lasts more than 7 days. Let your doctor know if your infection returns within 2 months.
Ingredients
The active ingredient in Monistat is Tioconazole.
Cautions
Let your doctor know if you have any history of diabetes, immune system disorders like HIV, or have had frequent vaginal yeast infections before starting to use Monistat cream for vaginal yeast infections.
Be aware that this cream may weaken barrier contraception methods like condoms or IUDs, and you should approach pregnancy prevention accordingly with this understanding.
Medication is for topical use in the genital region only and should not be applied to any other area of the body, including keeping away from eyes, ears, mouth, and nostrils.
Do not exceed dosage. Doing so may increase the risk for Monistat cream burns.
Interactions
Negative drug interactions may occur between Monistat and other Rx or OTC medications, including prednisone / cyclosporine / methotrexate. It may be best to discuss all medications you are currently taking with a pharmacist before proceeding to buy Monistat vaginal cream.
Side Effects
Side effects from using Monistat cream for vaginal yeast infections may occur, and some users may experience headache or urethral burning, itching, or mild pain. If side effects are experienced you may want to stop use and speak to a doctor, pharmacist, or medical professional again to discuss vaginal yeast infection treatment alternatives.
IMPORTANT NOTE: The above information is intended to increase awareness of health information and does not suggest treatment or diagnosis. This information is not a substitute for individual medical attention and should not be construed to indicate that use of the drug is safe, appropriate, or effective for you. See your health care professional for medical advice and treatment.