Description
Nootropil is a prescription Alzheimer's treatment medication that is also used for Parkinson's treatment and other degenerative brain conditions. It may also be prescribed for people after they have had a stroke and are dealing with paralysis and / or dyskinesia resulting from it. The active ingredient in the medication – Piracetam – works by improving the membranes of cells in the brain so that cells do not stiffen to the same extent they would otherwise. This promotes better intracellular communication in the brain and a reduction in the severity of these degenerative brain conditions.
You can buy Nootropil with a prescription, and your best price on it will be when you order medication online from Canada and Canpharm.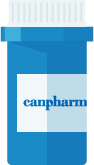 Directions
Standard dosage for Nootropil Piracetam is 1 Piracetam 1200mg tablet taken once daily, with or without food.
It is best to take this medication at the same time each day, and patients who are unable to self-care effectively with regards to taking their medication may need assistance to using Nootropil as indicated in their prescription.
Ingredients
The active ingredient in Nootropil is Piracetam.
Cautions
Let your doctor know if you have any history of epilepsy, Huntington disease, kidney disease, or cocaine use disorder before starting on Nootropil.
Medication can diminish blood clotting in the body, and major surgery may not be possible while using Nootropil medicine.
Keep medication in a safe place and out of the reach of children.
Be aware of medication expiry date.
Interactions
Negative drug interactions may occur between Nootropil Piracetam and other Rx or OTC medications, including aspirin / clopidogrel / diclofenac / ibuprofen / naproxen / dalteparin / enoxaparin / heparin / warfarin.
Let your doctor know of all medications you are currently taking before getting a prescription and proceeding to buy Nootropil online.
Side Effects
Side effects from Nootropil Piracetam use may occur, and some users may have breathing difficulties, swelling, bleeding, bruising, anxiety, weakness, weight gain, stomach pain, diarrhea, skin rash, nervousness, muscle spasm, fainting, sleeplessness, dizziness, or nausea. If side effects from Nootropil are seen, you may want to stop use and meet with your doctor again to discuss Parkinson's treatment medication alternatives.
IMPORTANT NOTE: The above information is intended to increase awareness of health information and does not suggest treatment or diagnosis. This information is not a substitute for individual medical attention and should not be construed to indicate that use of the drug is safe, appropriate, or effective for you. See your health care professional for medical advice and treatment.