Description
The Pulmicort Turbuhaler is a prescription asthma maintenance inhaler used regularly by asthma sufferers to reduce the severity and duration of asthma attacks. It is a corticosteroid medication that is effective for long-term reduction of the swelling that constricts the airways into the lungs and makes it difficult to breathe during asthma attacks. Budesonide also reduces the irritation of the airway, and most individuals using either the Pulmicort Turbuhaler 200 or Pulmicort Turbuhaler will take one or two inhalations each day as per their doctor's recommendation.
You can buy Pulmicort Turbuhaler with a prescription, and your best price on it will be when you order medication online from Canada and Canpharm.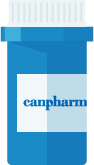 Directions
Unscrew the cap of the Turbuhaler anticlockwise and lift it off.
Hold the inhaler upright. Turning the colored base of the Turbuhaler to the right will load it, and you should turn it as far as it will go.
Twist base back to the left until it clicks. The dose is loaded into the inhaler when you hear this click.
Breathe out gently, away from Turbuhaler. Hold the Turbuhaler while keeping the air inlets clear and put the tip of the mouthpiece into your mouth. Make a solid seal over it with your lips.
Press activator and breathe in quickly and deeply through your mouth. Hold your breath for 5-10 seconds.
Remove the inhaler from your mouth and breathe out. Replace the cap and screw it shut.
Ingredients
The active ingredient in the Pulmicort Turbuhaler is Budesonide.
Cautions
Let your doctor know of any history of eye diseases like cataracts or glaucoma), high blood pressure, liver disease, thyroid problems, diabetes, stomach or intestinal problems like diverticulitis or ulcers, bone loss (osteoporosis), serious infections, bleeding problems, or mental / mood disorders or conditions before starting with the Pulmicort Turbuhaler.
Users who switch from an asthma tablet to an inhaler may be more susceptible to stress effects for up to 12 months after changing over to the asthma maintenance inhaler.
Medication use may mask the signs of certain infections.
Medication use may slow a child's growth if used for an extended period of time.
Let your doctor know if you are using Budesonide and have any type of upcoming immunization or vaccination scheduled.
Interactions
Negative drug interactions risks may occur between the Pulmicort Turbuhaler and other Rx or OTC medications, including fluticasone / salmeterol / diphenhydramine / a formoterol / ipratropium / apixaban / furosemide / metoprolol / polyethylene glycol 3350 / guaifenesin) / acetaminophen / albuterol / montelukast / tiotropium // formoterol / levothyroxine / acetaminophen / cyanocobalamin / ascorbic acid // cholecalciferol / cetirizine.
Let your doctor know of all medications you are currently taking before getting a prescription and going to buy Pulmicort Turbuhaler online.
Side Effects
Side effects from using the Pulmicort Inhaler may occur, and some users may have dry or irritated throat, hoarseness, voice changes, nausea, bad taste in the mouth, runny or stuffy nose, or nosebleeds. If Budesonide side effects are seen you may choose to discontinue use and meet with your doctor again to discuss asthma maintenance inhalers that may be a better fit for you.
IMPORTANT NOTE: The above information is intended to increase awareness of health information and does not suggest treatment or diagnosis. This information is not a substitute for individual medical attention and should not be construed to indicate that use of the drug is safe, appropriate, or effective for you. See your health care professional for medical advice and treatment.