Description
The Symbicort Turbuhaler is an asthma maintenance inhaler available by prescription and used to reduce the severity and frequency of asthma attacks or COPD flare-ups. Users will take inhalations twice a day every day to keep their asthma in check, and the two active ingredients work very differently to treat asthma or COPD symptoms. Budesonide is an anti-inflammatory medication that reduces inflammation in the lungs, and Formoterol is a LABA bronchodilator that promotes the relaxation of the muscles around the airways into the lungs. Buy Symbicort Turbuhaler from Canpharm for the best price on it.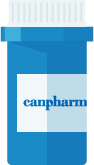 Directions
Preparation
Hold the inhaler in an upright position
Shake the inhaler well for 5 seconds
Remove the mouthpiece cover by squeezing gently on both sides and pulling the cover out
Hold the inhaler away from you and press on the activator to release a test spray
Shake the inhaler again for 5 seconds and do the same for a second test spray
Administration
Shake the inhaler for 5 seconds and remove the mouthpiece cover
Exhale fully and hold the inhaler up to your mouth, placing the mouthpiece into your mouth and closing your lips around it
Ensure that the inhaler is upright, and the opening of the mouthpiece is pointing toward the back of your throat
Inhale slowly and deeply through your mouth as you press down firmly on the activator at the top of the counter to release the medication
Continue to inhale and hold your breath for 10 seconds or as long as comfortable to do so
Before exhaling, release your finger from the activator but keep the inhaler upright as you remove it from your mouth
Shake the inhaler again and repeat all these above steps for your second inhalation
Cautions
Let your doctor know of any history of heart conditions, high blood pressure, irregular heartbeat, weakened immune systems, liver disease, osteoporosis, or glaucoma before starting to use the Symbicort Turbuhaler
It is best to speak with your doctor if you will be using this medication while pregnant or breastfeeding
Do not use your Symbicort inhaler more than twice a day
Clean mouthpiece every 7 days for hygiene
Do not use this medication concurrently with another medication that contains a LABA (long-acting beta2-androgenic agonist) active ingredient
Use caution to avoid exposure to people who have infectious diseases like chickenpox or measles
Discard your inhaler when your dose counter reads ZERO or if 3 months have passed since you removed your Symbicort medication from the foil pouch
Interactions
Negative drug interactions may occur between the Symbicort Turbuhaler and other Rx medications, including amlodipine / atorvastatin / Flonase (fluticasone nasal) / furosemide / gabapentin / hydrochlorothiazide / levothyroxine / lisinopril / losartan / metformin / metoprolol / montelukast / omeprazole / pantoprazole / potassium chloride / prednisone / ProAir HFA (albuterol) / simvastatin / Singulair (montelukast) / Spiriva (tiotropium) / tramadol / trazodone / Ventolin HFA (albuterol) / Zyrtec (cetirizine)
Side Effects
Side effects from using the Symbicort Turbuhaler may occur, and some users may experience cough, shortness of breath, chest pain, racing heartbeat, vision problems, or high blood sugar. If side effects are experienced, you may want to stop use and meet with your doctor again to discuss asthma maintenance inhaler options.
Remember, these are not exhaustive lists, and it's important to consult with a healthcare professional for personalized advice and guidance. If you prefer, you may contact the U.S. Food and Drug Administration (FDA) directly. Visit http://www.fda.gov/MedWatch or call 1-800-FDA-1088. For complete details about Symbicort Turbuhaler, please refer to Patient Information.
Frequently Asked Questions about Symbicort Turbuhaler
---
How to Use Symbicort Turbuhaler?
To use Symbicort Turbuhaler, follow these steps:
Remove the cap and hold the inhaler upright.
Twist the grip as far as it will go in one direction and then back fully in the other direction.
Breathe out gently, away from the inhaler.
Put the mouthpiece between your lips, seal your lips around it, and breathe in forcefully and deeply.
Remove the inhaler from your mouth and hold your breath for about 10 seconds.
Breathe out slowly.
Close the inhaler with the cap.
---
Can You Use a Spacer With Symbicort Turbuhaler?
No, Symbicort Turbuhaler should not be used with a spacer. It is designed to be used directly without a spacer device.
---
Is Symbicort Turbuhaler a Steroid?
Yes, Symbicort Turbuhaler contains two active ingredients: budesonide and formoterol. Budesonide is a corticosteroid, which helps to reduce inflammation in the airways. Formoterol is a long-acting bronchodilator that helps to relax and open up the airways. So, yes, Symbicort Turbuhaler does contain a steroid component.
---
How Does Symbicort Turbuhaler Work?
Symbicort Turbuhaler works in two ways:
The corticosteroid (budesonide) reduces inflammation in the airways, helping to prevent and control asthma symptoms.
The long-acting bronchodilator (formoterol) helps to relax and open up the airways, making it easier to breathe.
---
What is Symbicort Turbuhaler Used for?
Symbicort Turbuhaler is used for the treatment of asthma in patients 12 years of age and older. It is also used for the maintenance treatment of chronic obstructive pulmonary disease (COPD) in adults. It helps to improve breathing and control symptoms such as wheezing, shortness of breath, and coughing associated with these respiratory conditions.
IMPORTANT NOTE: The above information is intended to increase awareness of health information and does not suggest treatment or diagnosis. This information is not a substitute for individual medical attention and should not be construed to indicate that use of the drug is safe, appropriate, or effective for you. See your health care professional for medical advice and treatment.