Description
Verzenio (abemaciclib) is a prescription medication used in the treatment of certain types of breast cancer. It is a type of kinase inhibitor, which works by blocking certain enzymes that contribute to the growth and spread of cancer cells.
Verzenio is indicated for the treatment of women with hormone receptor (HR)-positive, human epidermal growth factor receptor 2 (HER2)-negative advanced or metastatic breast cancer who have received prior endocrine therapy. It can be used alone or in combination with an aromatase inhibitor as initial endocrine-based therapy for postmenopausal women, or in combination with fulvestrant in women with disease progression following endocrine therapy.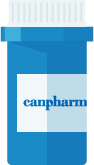 Directions
Take Verzenio exactly as prescribed by your doctor. Follow all directions on your prescription label and read all medication guides or instruction sheets. Your doctor may occasionally change your dose. Take the medicine at the same time each day, with or without food. Swallow the tablet whole and do not crush, chew, or break it. If you vomit shortly after taking Verzenio, do not take another dose. Wait until your next scheduled dose time to take the medicine again. Drink plenty of liquids while you are taking Verzenio. Abemaciclib can cause severe diarrhea, which can be life-threatening if it leads to dehydration or infection. If you have diarrhea while taking Verzenio: start taking anti-diarrhea medicine such as loperamide (Imodium) to quickly treat diarrhea. Drink extra fluids and call your doctor. Abemaciclib can lower blood cells that help your body fight infections and help your blood to clot. Your blood will need to be tested often. Your cancer treatments may be delayed based on the results of these tests. Store at room temperature away from moisture and heat.
Ingredients
The active ingredient in Verzenio is abemaciclib.
Cautions
Verzenio can cause severe severe diarrhea, which can lead to dehydration or infection. Call your doctor right away if you have diarrhea. Drink extra fluids and start taking anti-diarrhea medicine such as loperamide (Imodium). Verzenio can cause blood clots, liver problems, or serious and sometimes fatal infections. Call your doctor right away if you have symptoms such as: fever, chills, easy bruising or bleeding, unusual tiredness, loss of appetite, right-sided upper stomach pain, chest pain, shortness of breath, rapid breathing, fast heartbeats, or pain or swelling in your arms or legs.
Side Effects
Common side effects of Verzenio (Abemaciclib) include:
Diarrhea
Nausea
Vomiting
Fatigue
Loss of appetite
Abdominal pain
Constipation
Decreased white blood cell count
Low red blood cell count
Increased liver enzyme levels
Less common side effects include:
Rashes
Low blood pressure
Increased bleeding risk
Changes in vision
Headaches
Joint pain
It's important to note that this is not an exhaustive list and that side effects can vary from person to person. If you experience any unusual symptoms while taking Verzenio, be sure to contact your healthcare provider.
IMPORTANT NOTE: The above information is intended to increase awareness of health information and does not suggest treatment or diagnosis. This information is not a substitute for individual medical attention and should not be construed to indicate that drug use is safe, appropriate, or effective for you. See your healthcare professional for medical advice and treatment.