Description
Xenical is a prescription weight loss medication for helping overweight people make progress towards a healthier body weight when combined with a calorie-reduced diet and more physical exercise. Xenical may also be prescribed to help people keep off weight they have already lost. This medication works by blocking the enzyme that breaks down fats in your diet so that undigested fat passes out of the body with waste elimination via the bowel. Patients should know that calorie restriction is essential to getting optimum results from using Xenical.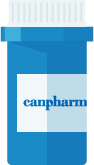 Directions
The standard Xenical dosage is to take the medication 3 times a day with meals (breakfast, lunch, dinner) that contain fat. You should not take this weight loss medication with any food that does not contain fat. It is also best to spread your daily intake of fat across the 3 meals (approximately even amounts in each).
Be aware as well that Xenical side effects can be minimized by making sure that that no more than 30% of the calories in your diet come from fat.
Do not exceed dosage regulations. If this medication does not seem to be working effectively then you should see your doctor again.
Ingredients
The active ingredient in Xenical is Orlistat.
Cautions
Let your doctor know if you have any history of chronic malabsorption syndrome or other digestive problems, cholestasis or other gall bladder issues, hypothyroidism (underactive thyroid), kidney stones or similar problems like calcium oxalate kidney stones and hyperoxaluria, eating disorders like anorexia nervosa and bulimia, HIV infection, or seizures before beginning on Xenical.
Xenical should only be used when pregnant if your doctor approves it.
Interactions
Negative drug interactions are possible between Xenical and certain Rx medications, including blood thinners like Warfarin, HIV medications like atazanavir, efavirenz, emtricitabine, lopinavir, ritonavir, and tenofovir and some anti-seizure medications.
Let your doctor know of all medications you are currently taking before getting a prescription and proceeding to buy Xenical online.
Side Effects
Xenical side effects are possible, and some users may experience changes in bowel function, fatty or oily stools, increased flatulence (gas), or poor bowel control. If Xenical side effects are seen you may want to stop use and speak to your doctor again to discuss weight loss aid medication alternatives.


IMPORTANT NOTE: The above information is intended to increase awareness of health information and does not suggest treatment or diagnosis. This information is not a substitute for individual medical attention and should not be construed to indicate that use of the drug is safe, appropriate, or effective for you. See your health care professional for medical advice and treatment.