Description
Xifaxan is a prescription traveler's diarrhea treatment medication that may also be prescribed to treat IBS with diarrhea. Rifaximin is an antibiotic and it works by killing the bacteria that are causing diarrhea and additional gastrointestinal upset when introduced to stomach as occurs with traveler's diarrhea. With IBS it works to address imbalances in gut bacteria that occur over time and contribute to that part of the condition. Xifaxan may also be prescribed to treat hepatic encephalopathy when a person has liver problems and an overgrowth of bacteria in the organ.
You can buy Xifaxan with a prescription and your lowest Xifaxan cost will be when you order medication online from Canada and Canpharm.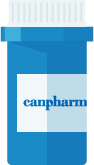 Directions
Traveler's diarrhea: Take 1 Xifaxan 550mg tablet 3 times daily at 8-hour intervals as needed.
IBS with diarrhea: Take 1 Xifaxan 500mg tablets 3 times daily at 8-hour intervals for 14-day (2 week) periods before assessing effectiveness and / or readjusting dosage or frequency based on your doctor's determination.
Medication can be taken with or without food.
Ingredients
The active ingredient in Xifaxan is Rifaximin.
Cautions
Let your doctor know of any history of liver disease or diverticulitis before starting on Xifaxan.
Medication is for use with ages 12 and up only.
Xifaxan may reduce the effectiveness of live vaccines or immunizations and either may need to be postponed until medication use is complete.
Keep medication in cool and dry place.
Be aware of medication expiry date.
Interactions
Negative drug interactions may occur between Xifaxan and other Rx or OTC medications, including dicyclomine / folic acid / furosemide // gabapentin / hydroxyzine / lactulose / levothyroxine / lisinopril / magnesium oxide / metformin / omeprazole / oxycodone / pantoprazole / prednisone / propranolol / spironolactone / tramadol / trazodone / cyanocobalamin / cholecalciferol.
Let your doctor know of all medications you are currently taking before getting a prescription and proceeding to buy Xifaxan online.
Side Effects
Xifaxan side effects may occur, and some users may experience abdominal or stomach pain, cramping, blood or mucus in stool, rash, itching or swelling of face, tongue, or throat, dizziness, or breathing difficulties. If Xifaxan side effects are seen you may want to discontinue use and meet with your doctor again to discuss traveler's diarrhea treatment medication alternatives.
IMPORTANT NOTE: The above information is intended to increase awareness of health information and does not suggest treatment or diagnosis. This information is not a substitute for individual medical attention and should not be construed to indicate that use of the drug is safe, appropriate, or effective for you. See your health care professional for medical advice and treatment.