Description
Addyi is a prescription libido enhancement medication used to restore sex drive for premenopausal women. This medication is an effective low libido treatment for HSDD - hypoactive sexual desire disorder. This is when a woman is increasingly less interested in sex despite an otherwise healthy relationship with her partner, and it is caused by chemical imbalances in the brain. Women should retain a healthy sex drive before they enter their menopause years, and Addyi works well to increase sexual desire for women. This medication can be very beneficial for those who have lost interest in sex.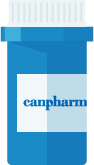 Directions
The standard dosage for this medication is to take 1 Addyi 100mg tablet each day at bedtime, but always take your medication exactly as specified in your prescription.
Ingredients
The active ingredient in Addyi is Flibanserin.
Cautions
Tell your doctor if you have any history of low blood pressure or liver problems before starting on this medication.

Do not take Addyi if you have had more than 3 standard-size alcoholic drinks during the day leading up to the time you usually take your medication.

Wait at least 1-2 hours before taking Addyi if you have had 1-2 standard-size alcoholic drinks.

Addyi should only be used during pregnancy or when you are breastfeeding if your doctor approves it.

Interactions
There is the possibility of negative drug interactions between Addyi and other Rx medications, including medicines used to treat HIV-1 infection, medicines used to treat fungal infections, certain antibiotics, medicines used to treat Hepatitis C infection, medicines used to treat high blood pressure, chest pain (angina), or other heart problems, and medicines used to treat depression (Nefazodone).
Let your doctor know of all medications you are currently taking before getting a prescription and going to buy Addyi online.
Side Effects
Addyi side effects are uncommon, but some users may experience dizziness, difficulty falling asleep or staying asleep, nausea, dry mouth, or tiredness. If side effects are seen you may want to discontinue use and speak to your doctor again regarding low libido for women treatment options.


IMPORTANT NOTE: The above information is intended to increase awareness of health information and does not suggest treatment or diagnosis. This information is not a substitute for individual medical attention and should not be construed to indicate that use of the drug is safe, appropriate, or effective for you. See your health care professional for medical advice and treatment.