Description
Wegovy is a prescription weight loss injection used to aid with weight loss as part of a multi-tiered obesity treatment plan. It is prescribed for people who have added health concerns connected to their weight, and the active ingredient in the medication – Semaglutide – works by regulating appetite hormones so that the body signals the brain and relates satiation and the user has less compulsion to eat more. It will be prescribed for people with the understanding that they must also adhere to diet and exercise changes in order for best weight loss results, and the Wegovy injection is self-administered once a week.
You can buy Wegovy with a prescription, and your lowest Wegovy cost will be when you order medication online from Canada and Canpharm.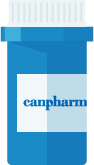 Directions
Injection may be administered into the thighs (upper leg), abdomen (excluding a 2" radius around the navel), or back of upper arms.
Administration
Pull cap off Wegovy pen.
Push tip of pen against skin and apply firm pressure until the yellow bar stops moving.
First audible click sound will indicate the injection has started.
Second audible click sound will indicate the Semaglutide injection is underway.
When yellow bar is full and not moving the injection is complete.
Ingredients
The active ingredient in Wegovy is Semaglutide.
Cautions
Let your doctor know of any history of gallstones, pancreas or kidney problems, type 2 diabetes, diabetic retinopathy, or serious mental health issues before starting on Wegovy.
Also make your doctor aware if you have had medullary thyroid carcinoma (MTC) or an endocrine system condition called Multiple Endocrine Neoplasia syndrome type 2 (MEN 2).
Choose a new injection site each week to avoid the risk of developing lipodystrophy at any one injection site.
Wegovy pen is for one-time use only, do not attempt to reuse any pen that still contains any amount of medication.
Store medication in refrigerator between 36°F to 46°F (2°C to 8°C).
Medication can be stored from 46°F to 86°F (8°C to 30°C) in the original carton for up to 28 days if pen cap has not been removed.
Keep medication out of sunlight or high temperatures.
Interactions
Negative drug interactions may occur between Wegovy and other Rx or OTC medications, including amlodipine / atorvastatin / bupropion / cyclobenzaprine / duloxetine / gabapentin / ibuprofen / levothyroxine / lisinopril / magnesium citrate / melatonin / metformin / montelukast / omeprazole / prednisone / topiramate / trazodone / cyanocobalamin / ascorbic acid / cholecalciferol.
Let your doctor know of all medications you are currently taking before getting a prescription and proceeding to buy Wegovy online.
Side Effects
Wegovy side effects may occur, and some users may have nausea, stomach pain, dizziness, stomach flu, diarrhea, headache, bloating, heartburn, vomiting, fatigue, belching, runny nose or sore throat, constipation, stomach upset, or flatulence. If Wegovy side effects are experienced you may want to stop use and meet with your doctor again to discuss weight loss injection alternatives.
IMPORTANT NOTE: The above information is intended to increase awareness of health information and does not suggest treatment or diagnosis. This information is not a substitute for individual medical attention and should not be construed to indicate that use of the drug is safe, appropriate, or effective for you. See your health care professional for medical advice and treatment.