Description
Mounjaro is a prescription Type 2 diabetes treatment medication used to lower blood sugar levels more effectively when paired with diet changes and increased physical activity and exercise levels. It is an injectable medication and is often recommended by doctors for patients who have difficulty getting their A1C hemoglobin test scores down to the standard 7% goal for Type 2 diabetics. The injection is administered once every week, and this medication is best used as part of comprehensive diabetes management plan.
You can buy Mounjaro with a prescription, and your best price on it will be when you order medication online from Canada and Canpharm.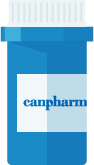 Directions
Take medication exactly as indicated in your prescription.
Medication can be injected in stomach, thighs, or back of upper arms only.
Pull off base cap.
Place base flat on skin and unlock.
Press and hold injector button for 10 seconds and listen for first click sound.
Hearing second click will mean Mounjaro injection is complete.
Ingredients
The active ingredient in Mounjaro is Tirzepatide.
Cautions
Let your doctor know if you have any history of medullary thyroid carcinoma (thyroid cancer), multiple endocrine neoplasia syndrome type 2 (MEN 2), gastroparesis (slowed stomach emptying), diabetic retinopathy or liver / pancreas problems before starting on Mounjaro.
Do not use medication if pregnant unless your doctor approves doing so.
Do not remove base cap from injector pen any other time than right before you plan to administer the injection.
Be aware of medication expiry date.
Interactions
Negative drug interaction risks are possible between Mounjaro and other Rx medications, including amlodipine / atorvastatin / gabapentin / hydrochlorothiazide / empagliflozin / levothyroxine / lisinopril / losartan / metformin / omeprazole / semaglutide / rosuvastatin / topiramate / cetirizine.
Let your doctor know of all medications you are currently taking before getting a prescription and going to buy Mounjaro online.
Side Effects
Mounjaro side effects may occur, and some users may experience dizziness or light-headedness, blurred vision, anxiety, irritability, or mood changes, sweating, shakiness, weakness, headache, elevated heartbeat, or feeling jittery. If Mounjaro side effects are seen you may want to stop use and speak to your doctor again regarding diabetes treatment medication alternatives.
IMPORTANT NOTE: The above information is intended to increase awareness of health information and does not suggest treatment or diagnosis. This information is not a substitute for individual medical attention and should not be construed to indicate that use of the drug is safe, appropriate, or effective for you. See your health care professional for medical advice and treatment.