Description
Ozempic (semaglutide) is an injectable medication that's used with diet and exercise to treat type 2 diabetes and to reduce the risk of heart attack, stroke, or death in adults who have type 2 diabetes and heart disease.
Ozempic is available in single-patient-use injectable pens:
2 mg/3 mL
2 mg/1.5 mL
4 mg/3 mL
8 mg/3 mL
Fact Table
Formula
C187H291N45O59
License
EU EMA, US FDA
Bioavailability
89%
Legal status
Rx-Only
Chemical Name
Semaglutide
Elimination half-life
7 days
Dosage (Strength)
2mg (0.25/0.5mg per dose), 4mg (1 mg per dose) (Pen Injector)
Pregnancy
Should not be used
Brands
Ozempic
Protein binding
More than 99%
PubChem CID
56843331
MedlinePlus
a618008
ChEBI
167574
ATC code
A10BJ06
DrugBank
DB13928
KEGG
D10025
Routes of administration
Subcutaneous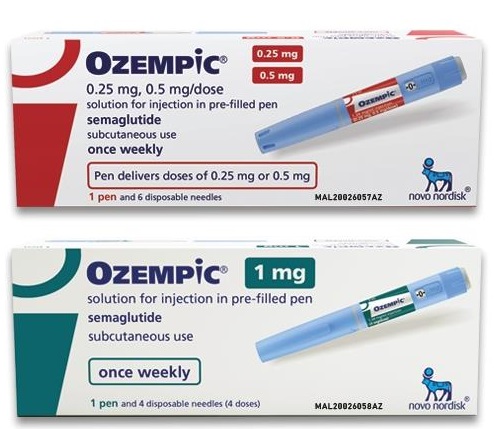 Directions
Carefully read and follow the instructions that come with your Ozempic prescription. Talk to your doctor or pharmacist about any questions or concerns you have.
Ozempic should be injected underneath the skin of the abdomen, thigh, or upper arm. You should alternate the site with each injection. Your healthcare provider should teach you how to properly inject the pen and dispose of it.
The recommended starting dose is 0.25 mg once a week. You may administer it at any time of the day, with or without food. After 4 weeks, your doctor may decide to increase your dose to 0.5 mg once a week. After 4 weeks of being on the 0.5 mg dose, your doctor may increase your dose as necessary.
Storage:
Before using your Ozempic pen for the first time, you should store it in the refrigerator between 36°F and 46°F (2°C to 8° C). Do not freeze it.
After your first use, you can store it for 56 days at room temperature between 59°F and 86°F (15° to 30°C). Keep the pen away from excessive heat and sun exposure.
Ingredients
Semaglutide is the active ingredient contained in Ozempic. Inactive ingredients include disodium phosphate dihydrate, propylene glycol, phenol, and water for injection. Hydrochloric acid or sodium hydroxide may be additional ingredients for pH balance.
Contraindications
Do not use Ozempic if you are allergic to the medication or to any of its components.
Do not use Ozempic if you or a member of your family has medullary thyroid cancer.
Do not use Ozempic if you have Multiple Endocrine Neoplasia syndrome type 2
Cautions
Ozempic has the following Boxed Warnings:

Although Ozempic has been shown to cause thyroid C-cell tumors in rodents, it is unknown whether Ozempic causes thyroid C-cell tumors in humans.
Ozempic should not be used in patients with a personal history or a family history of medullary thyroid carcinoma.
Ozempic should not be used in patients with Multiple Endocrine Neoplasia syndrome type 2.

Before you begin treatment with Ozempic, you should tell your doctor about:

All the medications you take
Your allergies
Your health history and current health problems
Your pregnancy or breastfeeding status

Pancreatitis may occur with the use of Ozempic.
Diabetic retinopathy complications can occur in patients using Ozempic. Patients should be monitored.
Do not share Ozempic pens or needles.
Ozempic can cause low blood sugar in patients who also use other antidiabetic medications or insulin.
Kidney damage can occur with the use of Ozempic. Kidney function should be monitored before starting Ozempic and during dosage increases of Ozempic.
Severe allergic reactions, including angioedema (swelling), can occur with the use of Ozempic.
Gallbladder problems can occur with the use of Ozempic.
Side Effects
Like all medications, Ozempic can cause side effects. The most common include nausea, vomiting, diarrhea, stomach pain, and constipation. However, these are not the only side effects that can occur during Ozempic treatment.
Contact your doctor right away if you have side effects that bother you or won't go away.
With a valid prescription from your doctor, you can buy Ozempic online at a competitive price at Canadian Pharmacy Online.
Reference:
Ozempic (semaglutide) injection, for subcutaneous use
. Plainsboro, NJ: Novo Nordisk Inc; 2022.
IMPORTANT NOTE: The above information is intended to increase awareness of health information and does not suggest treatment or diagnosis. This information is not a substitute for individual medical attention and should not be construed to indicate that use of the drug is safe, appropriate, or effective for you. See your health care professional for medical advice and treatment.