Description
Alecensa is a prescription lung cancer treatment medication used to improve treatment outcomes and improve the chances of lung cancer being in remission for patients. It is a multikinase inhibitor drug that works to slow the growth of cancer cells or stop growth completely in best case scenarios. It is more commonly prescribed to treat advanced non-small cell lung cancer and prescribing doctors will make clear to recipients that this medication must be taken exactly as directed in order to have maximum effectiveness.
You can buy Alecensa with a prescription, and your lowest Alecensa cost will be when you order medication online from Canada and Canpharm.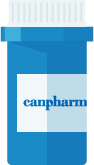 Directions
Standard dosage is to take one Alecensa 150mg tablet twice daily and it is best to take the medication at the same time each day. A different dosage and frequency may be scheduled based on your doctor's assessment of your condition, so always refer to your prescription and take your medication exactly as indicated there.
Ingredients
The active ingredient in Alecensa is Alectinib.
Cautions
Let your doctor know if you have any history of liver disease, irregular or slowed heartbeat, or kidney disease before starting on Alecensa.
Medication use may cause dizziness or vision impairment. Drive or use machinery with caution.
Medication may increase sun sensitivity.
Medication should only be used when pregnant if a doctor approved to do so.
Interactions
Negative drug interaction risks are possible between Alecensa and other Rx medications, including epirubicin / clofarabine / acebutolol / atenolol / cannabidiol / donepezil / digoxin / fingolimod / flecainide / verapamil / atazanavir / efavirenz / leflunomide / lomitapide / mefloquine / methotrexate / naltrexone / brigatinib / quinine / Siponimod / bedaquinine.
Let your doctor know of all medications you are currently taking before getting a prescription and going to buy Alecensa online.
Side Effects
Side effects from using Alecensa may occur, and some user may experience fatigue, constipation, nausea, vomiting, diarrhea, edema, back pain, headache, weight gain, or vision changes. If side effects are seen you may want to stop use and speak to your doctor again regarding lung cancer treatment medication alternatives.
IMPORTANT NOTE: The above information is intended to increase awareness of health information and does not suggest treatment or diagnosis. This information is not a substitute for individual medical attention and should not be construed to indicate that use of the drug is safe, appropriate, or effective for you. See your health care professional for medical advice and treatment.