Description
Arazlo is an acne treatment medication available by prescription and used to reduce the severity of acne and promote more blemish-free skin on the face, back, or other parts of the body. Tazarotene is a powerful retinoid that works to slow skin cell overgrowth and decrease skin cell inflammation. Arazlo may also be prescribed to treat psoriasis or as part of a skin photoaging treatment regimen, and users for psoriasis or acne treatment can expect to see improvement in their skin within 1 to 4 weeks of starting treatment. Buy Arazlo from Canada and Canpharm and get the best price on it.
What is Acne?
Acne is a skin condition where blemishes including blackheads and whiteheads appear on the skin due to bacterial growth in skin pores that are clogged due to overproduction of sebum from sebaceous glands. Overactive glands are seen most commonly in youth and young adults, and untreated acne may cause pitting of the skin and permanent scarring. For most acne sufferers an OTC acne cream will be sufficient for treatment and reduction of acne, but others with more severe acne outbreaks will need an Rx acne medication.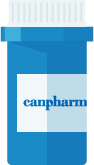 Directions
Apply Arazlo lotion exactly as indicated in prescription, applying moderate amount of it over acne affected areas
Wash treatment area before application and ensure it is completely dry
Apply a thin layer of Arazlo lotion to affected skin areas, ensuring that it is kept away from mouth, nose and eyes
Do not cover affected area with bandage or any other type of dressing after application
If using skin moisturizers, you will need to wait at least one hour after applying Tazarotene before you put moisturizer on treated skin areas
Ingredients
The active ingredient in Arazlo is Tazarotene
Cautions
Let your doctor know of any history of skin cancer, eczema or other skin ailments before starting on Arazlo
Arazlo is not be used by pregnant women because of the risk of birth defects
Use of Arazlo for acne increase sun sensitivity and users should use sun protection or cover treated skin to keep it out of direct sunlight exposure
It is best to not apply cosmetics to treated skin areas while using this medication and avoid hot wax or electrolysis / laser hair removal treatments
Do not apply Arazlo to sunburnt skin
Be aware of medication expiry date
Interactions
Negative drug interactions may occur between Arazlo and other Rx medications, including chlorothiazide, chlorpromazine, chlorthalidone, fluphenazine, fluoroquinolone, ciprofloxacin, gemifloxacin, levofloxacin, moxifloxacin, hydrochlorothiazide indapamide, methyclothiazide, metolazone, perphenazine, prochlorperazine, co-trimoxazole, doxycycline, tigecycline, thioridazine, and trifluoperazine. Let your doctor know of all medications you are currently taking before getting a prescription and proceeding to buy Arazlo online.
Side Effects
Side effects from using Arazlo for acne may occur, and some users may experience itching, redness, rash, peeling, burning, stinging, dryness, discoloration, swelling or other types of skin irritation. If side effects are experienced it may be best to stop use and meet with a doctor again to discuss acne treatment medication alternatives.
Remember, these are not exhaustive lists, and it's important to consult with a healthcare professional for personalized advice and guidance. If you prefer, you may contact the U.S. Food and Drug Administration (FDA) directly. Visit www.fda.gov/MedWatch or call 1-800-FDA-1088
Frequently Asked Questions about Arazlo
---
Is Arazlo a retinoid?
Yes, the active ingredient in this medication is a retinoid.
---
Does Arazlo help with acne scars?
No, this medication stops the development of acne but will not work to reduce scarring from acne.
---
How long does it take for Arazlo to work?
Most users will begin to see less acne and improvement in skin appearance within 1 to 2 weeks, but for others up to 1 month may be required for Arazlo to work.
---
Does Arazlo help with wrinkles?
Yes, the retinoid active ingredient in this medication can promote the reduction of skin wrinkles, but only with moderate improvements.
---
Is Arazlo a steroid?
No, this is not a steroidal medication.
IMPORTANT NOTE: The above information is intended to increase awareness of health information and does not suggest treatment or diagnosis. This information is not a substitute for individual medical attention and should not be construed to indicate that use of the drug is safe, appropriate, or effective for you. See your health care professional for medical advice and treatment.