Description
Clindamycin is an antibiotic. It fights bacteria in the body. Tretinoin is a form of vitamin A. It reduces the amount of oil released by oil glands in your skin, and helps your skin renew itself more quickly. Clindamycin and tretinoin is a combination medicine used to treat severe nodular acne in adults and children who are at least 12 years old. Clindamycin and tretinoin topical may also be used for purposes other than those listed in this medication guide.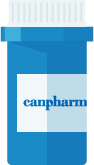 Directions
Follow all directions on your prescription label. Do not use this medicine in larger or smaller amounts or for longer than recommended. Using more medicine or applying it more often than prescribed will not make it work any faster, and may increase side effects. Wash your hands before and after applying this medication. Wash your face with a mild soap or cleanser and pat the skin dry with a clean towel. Use only a pea-sized amount of clindamycin and tretinoin topical. Apply to your entire face every night at bedtime. Do not wash your face more than 3 times daily while using this medication. Washing more often or scrubbing your face when you wash it can make your acne worse. Avoid getting this medication in your eyes, mouth, or nose (or in the creases of your nose), or on your lips. If it does get into any of these areas, wash with water. Do not apply this medicine to sunburned, windburned, dry, chapped, irritated, or broken skin. Use this medication for the full prescribed length of time, even if you think it is not working. Call your doctor if skin irritation becomes severe or if your acne does not improve after several weeks of using this medicine. If you need surgery, tell the surgeon ahead of time that you are using clindamycin and tretinoin topical. Store at room temperature away from moisture, heat, and light. Do not freeze.
Ingredients
Each gram of aqueous based gel contains 10 mg of clindamycin as clindamycin phosphate and 0.25 mg of tretinoin. Nonmedicinal ingredients: butylated hydroxytoluene NF, carbomer 981 NF, citric acid USP, edetate disodium USP, glycerin USP, methylparaben NF, polysorbate 80 NF, propylparaben NF, purified water USP, and tromethamine USP.
Cautions
You should not use this medication if you have ulcerative colitis, Crohn's disease, inflammation of your intestines (also called enteritis), or if you have ever had severe diarrhea caused by antibiotic medicine. You should not use clindamycin and tretinoin topical if you are also taking another antibiotic called erythromycin, or using other skin medications that contain erythromycin.
Side Effects
Get emergency medical help if you have any of these signs of an allergic reaction: hives; difficult breathing; swelling of your face, lips, tongue, or throat. This medicine may cause serious side effects. Stop using this medicine and call your doctor at once if you have: severe redness, burning, stinging, or scaling of treated skin areas; or diarrhea that is watery or bloody. Common side effects of clindamycin and tretinoin may include: mild skin irritation, dryness or peeling; mild skin redness; or itching of treated skin. This is not a complete list of side effects and others may occur. Call your doctor for medical advice about side effects. You may report side effects to FDA at 1-800-FDA-1088.