Description
Creon is a prescription digestive enzyme medication used for chronic pancreatitis treatment and improving patients' digestive function. It is commonly prescribed for chronic pancreatitis, cystic fibrosis, pancreatic cancer, or following a pancreatectomy or gastrointestinal bypass surgery. The small intestine's ability to break down and digest fats, starch, and proteins in food is improved to promote better nutritional intake and better gut function for people with these conditions.
You can buy Creon medication with a prescription, and your best price on it will be when you order medication online from Canada and Canpharm.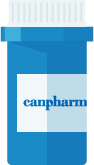 Directions
A patient's Creon dosing will be determined by the doctor based on extent of condition and response to any existing treatment. Only take your medication exactly as indicated in the prescription, do not exceed the dosage or take less of the medication.
Ingredients
The active ingredient in Creon is Pancreatic Enzyme.
Cautions
Let your doctor know if you have any history of acute pancreatitis (sudden/severe swelling of the pancreas), gout, kidney disease, hyperuricemia (high uric acid level in the blood), or intestinal problems like blockages before starting on Creon.
Using Creon may affect blood sugar levels for diabetics. Speak with your doctor about possible changes to your diabetes management program.
Let your doctor know if you have surgery planned anytime in the near future before beginning on Creon.
Only use medication if pregnant or breastfeeding if approved to do so by your doctor.
Interactions
Negative drug interaction risks are possible between Creon and other Rx medications, including Hushart, Acarbose, and Miglitol. Let your doctor know of all medications you are currently taking before getting a prescription and going to buy Creon online.
Side Effects
Creon side effects may occur, and some users may have diarrhea, constipation, headache, abdominal pain/cramps/bloating, gas, cough, nausea, or vomiting. If Creon side effects are seen you may want to stop use and speak with you doctor again regarding pancreatitis medication alternatives.
IMPORTANT NOTE: The above information is intended to increase awareness of health information and does not suggest treatment or diagnosis. This information is not a substitute for individual medical attention and should not be construed to indicate that use of the drug is safe, appropriate, or effective for you. See your health care professional for medical advice and treatment.