Description
Dificid is a prescription medication for C. difficile associated diarrhea treatment that effectively limits the severity of diarrhea and makes it much more infrequent by clearing the bacterial infection in the intestine. Fidaxomicin is a part of the macrolide antibiotic drug class that works to stop the growth of bacteria so that chronic diarrhea along with stomach cramps and blood or mucus in the stool are minimized and shortened significantly. It may also be advisable to make temporary diet changes while using Dificid medication for better effectiveness and reducing gastrointestinal upset.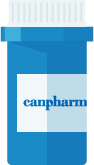 Directions
Standard Dificid dosage guideline is to take one Dificid 200mg tablet 2x each day, with one tablet taken every 12 hours. Medication may be taken with or without food, and the dosage for children may be lower depending on their weight.
Always take your medication exactly as indicated in your prescription.
Ingredients
The active ingredient in Dificid is Fidaxomicin.
Cautions
Let your doctor know of any history of major restorative heart surgery, allergies to azithromycin or clarithromycin, or have surgery scheduled in the near future before beginning on Dificid.
Using Fidaxomicin may not be restricted if you have any upcoming plans to receive a live vaccine or immunization.
Use medication when pregnant only if a doctor approves you doing so.
Overuse of antibiotic medications like Dificid can cause bacterial resistance and lead to future courses of antibiotic medication being less effective or ineffective. Do not exceed dosage guidelines shown in your prescription for this reason.
Be aware of the expiry date for your medication.
Interactions
Negative drug interaction risks may occur between Dificid and other Rx or OTC medications, including p-gp inhibitors like cyclosporine. Let your doctor know of all medications you are currently taking before receiving a prescription and going to buy Dificid online.
Side Effects
Side effects from using Dificid may occur, and some users may experience nausea, vomiting, or stomach/ abdominal pain. If side effects are seen you can choose to stop use and meet with your doctor again to discuss chronic diarrhea from infection treatment medication alternatives.
IMPORTANT NOTE: The above information is intended to increase awareness of health information and does not suggest treatment or diagnosis. This information is not a substitute for individual medical attention and should not be construed to indicate that use of the drug is safe, appropriate, or effective for you. See your health care professional for medical advice and treatment.