Description
Fluconazole 150 mg capsules are an antifungal medication used to treat vaginal yeast infections caused by the yeast known as Candida. It works by stopping the growth of Candida. It usually starts to work within one day, but it may take 3 days for your symptoms to improve and up to 7 days for your symptoms to disappear. This medication may be available under multiple brand names and/or in several different forms. Any specific brand name of this medication may not be available in all of the forms or approved for all of the conditions discussed here. As well, some forms of this medication may not be used for all of the conditions discussed here. Your doctor may have suggested this medication for conditions other than those listed in these drug information articles. If you have not discussed this with your doctor or are not sure why you are taking this medication, speak to your doctor. Do not stop taking this medication without consulting your doctor. Do not give this medication to anyone else, even if they have the same symptoms as you do. It can be harmful for people to take this medication if their doctor has not prescribed it.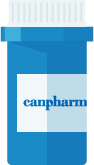 Directions
The recommended dose of fluconazole for vaginal candidiasis (yeast) infections is a single 150 mg dose. Many things can affect the dose of a medication that a person needs, such as body weight, other medical conditions, and other medications. If your doctor has recommended a dose different from the ones listed here, do not change the way that you are taking the medication without consulting your doctor. It is very important that this medication be taken as suggested by your doctor or pharmacist. Store this medication at room temperature and keep it out of the reach of children. Do not dispose of medications in wastewater (e.g. down the sink or in the toilet) or in household garbage. Ask your pharmacist how to dispose of medications that are no longer needed or have expired.
Ingredients
Each hard, white, gelatin capsule, marked with the Pfizer logo, contains 150 mg of fluconazole. Nonmedicinal ingredients: colloidal silicon dioxide, lactose, magnesium stearate, maize starch, and sodium lauryl sulfate; capsule shell: gelatin and titanium dioxide.
Cautions
General: If this is your first yeast infection, if you have frequent yeast infections or heart disease, if you have another yeast infection within 2 months after taking this medication, or if you have multiple sexual partners or change partners often, talk to your doctor or pharmacist before taking this medication. This medication should only be taken as a single dose. The following symptoms are not caused by a yeast infection. Contact your doctor for treatment advice, if you experience them: abdominal pain discharge with a foul odour fever or chills lower back or shoulder pain nausea, vomiting, or diarrhea painful urination If your symptoms have not improved in 3 days or disappeared in 7 days, contact your doctor. Do not take this medication if you: are allergic to fluconazole or any ingredients of the medication are taking the medication terfenadine and taking fluconazole in doses greater than 400 mg daily are taking any of the following medications: amiodarone cisapride erythromycin pimozide quinidine
Side Effects
Many medications can cause side effects. A side effect is an unwanted response to a medication when it is taken in normal doses. Side effects can be mild or severe, temporary or permanent. The side effects listed below are not experienced by everyone who takes this medication. If you are concerned about side effects, discuss the risks and benefits of this medication with your doctor. The following side effects have been reported by at least 1% of people taking this medication. Many of these side effects can be managed, and some may go away on their own over time. Contact your doctor if you experience these side effects and they are severe or bothersome. Your pharmacist may be able to advise you on managing side effects. diarrhea headache nausea stomach pain Although most of the side effects listed below don't happen very often, they could lead to serious problems if you do not seek medical attention. Check with your doctor as soon as possible if any of the following side effects occur: signs of liver problems (e.g., nausea, vomiting, diarrhea, loss of appetite, weight loss, yellowing of the skin or whites of the eyes, dark urine, pale stools) Stop taking the medication and seek immediate medical attention if any of the following occur: signs of a serious allergic reaction (i.e., abdominal cramps, difficulty breathing, nausea and vomiting, or swelling of the face and throat) signs of a severe skin reaction such as blistering, peeling, a rash covering a large area of the body, a rash that spreads quickly, or a rash combined with fever or discomfort Some people may experience side effects other than those listed. Check with your doctor if you notice any symptom that worries you while you are taking this medication.


IMPORTANT NOTE: The above information is intended to increase awareness of health information and does not suggest treatment or diagnosis. This information is not a substitute for individual medical attention and should not be construed to indicate that use of the drug is safe, appropriate, or effective for you. See your health care professional for medical advice and treatment.