Description
Edarbyclor contains a combination of azilsartan and chlorthalidone. Azilsartan is an angiotensin II receptor blocker (sometimes called an ARB). Chlorthalidone is a thiazide diuretic (water pill) that helps prevent your body from absorbing too much salt, which can cause fluid retention. Edarbyclor is used to treat high blood pressure (hypertension). Lowering blood pressure may lower your risk of a stroke or heart attack.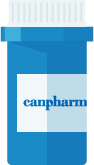 Directions
Take Edarbyclor exactly as prescribed by your doctor. Follow all directions on your prescription label and read all medication guides or instruction sheets. Your doctor may occasionally change your dose. You may take Edarbyclor with or without food. Your blood pressure will need to be checked often. Your kidney function may also need to be checked. You may have very low blood pressure while taking this medicine. Call your doctor if you are sick with vomiting or diarrhea, or if you are sweating more than usual. Keep using this medicine as directed, even if you feel well. High blood pressure often has no symptoms. You may need to use blood pressure medicine for the rest of your life. Store in the original container at room temperature, away from moisture, heat, and light.
Ingredients
Azilsartan medoxomil potassium, chlorthalidone, mannitol, microcrystalline cellulose, fumaric acid, sodium hydroxide, hydroxypropyl cellulose, crospovidone, magnesium stearate, hypromellose 2910, talc, titanium dioxide, ferric oxide red, polyethylene glycol 8000, and printing ink grey.
Cautions
You should not use Edarbyclor if you are unable to urinate. Do not use if you are pregnant. Stop using the medicine and tell your doctor right away if you become pregnant. Ask your doctor about a blood pressure medication that is safer to use during pregnancy. If you have diabetes, do not use Edarbyclor together with any medication that contains aliskiren (a blood pressure medicine - e.g. Amturnide, Tekturna, Tekamlo, Valturna).
Side Effects
Get emergency medical help if you have signs of an allergic reaction to Edarbyclor: hives; difficulty breathing; swelling of your face, lips, tongue, or throat. Call your doctor at once if you have: feeling like you might pass out; little or no urination; swelling, weight gain, feeling short of breath; or signs of electrolyte imbalance - dry mouth, extreme thirst, weakness, drowsiness, restless feeling, confusion, increased or decreased urination, nausea and vomiting, constipation, muscle pain or weakness, fast heart rate, or seizure (convulsions). Common Edarbyclor side effects may include: dizziness; or feeling tired. This is not a complete list of side effects and others may occur. Call your doctor for medical advice about side effects. You may report side effects to FDA at 1-800-FDA-1088.