Description
Enablex reduces muscle spasms of the bladder and urinary tract.
Enablex is used to treat symptoms of overactive bladder, such as frequent or urgent urination, and incontinence (urine leakage).
Enablex may also be used for other purposes as determined by your doctor.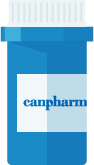 Directions
Take Enablex exactly as prescribed by your doctor. Do not take it in larger amounts or for longer than recommended. Follow the directions on your prescription label.
Take Enablex with water.
Enablex can be taken with or without food.
Store Enablex at room temperature away from moisture, heat, and light.
Cautions
You should not use Enablex if you are allergic to darifenacin, or if you have untreated or uncontrolled narrow-angle glaucoma, a blockage in your digestive tract (stomach or intestines), or if you are unable to urinate.
Before using Enablex, tell your doctor if you have glaucoma, liver disease, a muscle disorder, ulcerative colitis, or a blockage in your stomach or intestines.
Avoid becoming overheated or dehydrated during exercise and in hot weather. Enablex can decrease perspiration and you may be more prone to heat stroke.
Tell your doctor about all the prescription and over-the-counter medications you use. This includes vitamins, minerals, herbal products, and drugs prescribed by other doctors. Do not start using a new medication without telling your doctor. Keep a list with you of all the medicines you use and show this list to any doctor or other healthcare provider who treats you.
Side Effects
Get emergency medical help if you have any of these signs of an allergic reaction: hives; difficulty breathing; swelling of your face, lips, tongue, or throat. Stop using Enablex and call your doctor at once if you have any of these serious side effects:
* hot, dry skin and extreme thirst;
* severe stomach pain or constipation;
* pain or burning when you urinate; or
* urinating less than usual or not at all. Less serious side effects may include:
* dry mouth;
* dry eyes, blurred vision;
* mild constipation;
* diarrhea;
* nausea, mild stomach pain or upset;
* dizziness, weakness;
* headache; or
* fever, sore throat, body aches, or other flu symptoms.


IMPORTANT NOTE: The above information is intended to increase awareness of health information and does not suggest treatment or diagnosis. This information is not a substitute for individual medical attention and should not be construed to indicate that use of the drug is safe, appropriate, or effective for you. See your health care professional for medical advice and treatment.