Description
Gengraf (Cyclosporine Modified) is an immunosuppressant medication that is used to prevent organ rejection after transplant surgery. It is also used to treat certain autoimmune disorders such as psoriasis, rheumatoid arthritis, and nephrotic syndrome. This medication works by reducing the activity of the immune system and helps to prevent the body from attacking the newly transplanted organ.
You can Buy Gengraf (Cyclosporine Modified) from CanPharm at an Affordable cost. We provide quality medications at a Guaranteed Low price.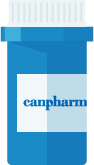 Directions
Gengraf (Cyclosporine Modified) is usually taken orally with or without food, usually twice a day as prescribed by a healthcare professional. It is important to follow the dosing schedule and not skip or miss any doses. The medication should be taken at the same time each day to maintain a consistent level in the body. If a dose is missed, take it as soon as possible, but if it is almost time for the next dose, skip the missed dose and continue with the regular schedule. Do not double the dose to catch up.
Ingredients
The active ingredient in Gengraf (Cyclosporine Modified) is Cyclosporine. It also contains inactive ingredients such as crospovidone, hydroxypropyl cellulose, magnesium stearate, polyethylene glycol, povidone, silica, and sodium lauryl sulfate.
Cautions
Gengraf (Cyclosporine Modified) can increase the risk of developing infections and certain cancers. It is important to inform a healthcare professional if you have a history of infections, cancer, or a weak immune system. This medication may also cause kidney problems, high blood pressure, and increase the risk of gout. Women who are pregnant or planning to become pregnant should inform their healthcare professionals as this medication may harm the unborn baby.
Side Effects
Common side effects of Gengraf (Cyclosporine Modified) include headache, nausea, vomiting, diarrhea, increased hair growth, tremor, and high blood pressure. Inform your healthcare professional if these side effects persist or become severe. Serious side effects of this medication include infections, kidney problems, changes in vision, and skin cancers. If you experience any of these symptoms, seek medical attention immediately.


IMPORTANT NOTE: The above information is intended to increase awareness of health information and does not suggest treatment or diagnosis. This information is not a substitute for individual medical attention and should not be construed to indicate that the use of the drug is safe, appropriate, or effective for you. See your healthcare professional for medical advice and treatment.