Description
Imitrex is a headache medicine that narrows blood vessels around the brain. Sumatriptan also reduces substances in the body that can trigger headache pain, nausea, sensitivity to light and sound, and other migraine symptoms. Imitrex is available as oral tablets, a nasal spray, and as an injection. It used to treat migraine headaches in adults. Imitrex will only treat a headache. It will not prevent headaches or reduce the number of attacks. Imitrex should not be used to treat a common tension headache or a headache that causes loss of movement on one side of your body. Use this medicine only if your condition has been confirmed by a doctor as migraine headaches.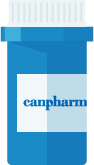 Directions
Use Imitrex as soon as you notice headache symptoms. Follow all directions on your prescription label and read all medication guides or instruction sheets. Use the medicine exactly as directed. You may receive your first dose in a hospital or clinic setting to quickly treat any serious side effects. Read and carefully follow any Instructions for Use provided with your medicine. Ask your doctor or pharmacist if you do not understand these instructions. Take a Imitrex tablet whole with a full glass of water. Do not split the tablet. After using Imitrex: If your headache does not completely go away, or goes away and comes back, use a second dose if it has been at least 2 hours since your first dose. Never use more than your recommended dose. Overuse of migraine headache medicine can make headaches worse. Tell your doctor if the medicine seems to stop working as well in treating your migraine attacks. Do not take more than 200 milligrams of oral Imitrex within 24 hours. Do not use more than 40 milligrams of Imitrex nasal spray within 24 hours. Call your doctor if your symptoms do not improve, or if you have more than 4 headaches in one month (30 days). Store at room temperature away from moisture, heat, and light. Do not store in a refrigerator. Do not freeze.
Ingredients
The active substance is Sumatriptan (as the succinate), 50 mg or 100 mg. The other ingredients in the tablets are lactose monohydrate, microcrystalline cellulose, croscarmellose sodium, acesulfame potassium, magnesium stearate and colloidal silicon anhydrous.
Cautions
You should not use Imitrex if you have uncontrolled high blood pressure, heart problems, certain heart rhythm disorders, a history of heart attack or stroke, or circulation problems that cause a lack of blood supply within the body. Do not use this medicine if you have used an MAO inhibitor in the past 14 days, such as isocarboxazid, linezolid, methylene blue injection, phenelzine, rasagiline, selegiline, or tranylcypromine. Also tell your doctor if you are taking an antidepressant such as citalopram (Celexa), desvenlafaxine (Pristiq), duloxetine (Cymbalta), escitalopram (Lexapro), fluoxetine (Prozac, Sarafem), fluvoxamine (Luvox), paroxetine (Paxil), sertraline (Zoloft), or venlafaxine (Effexor). Imitrex will only treat a headache that has already begun. It will not prevent headaches or reduce the number of attacks. Do not use Imitrex within 24 hours before or after using any other migraine headache medicine.
Side Effects
Get emergency medical help if you have signs of an allergic reaction to Imitrex: hives; difficulty breathing; swelling of your face, lips, tongue, or throat. Stop using Imitrex and call your doctor at once if you have: sudden and severe stomach pain and bloody diarrhea; severe chest pain, shortness of breath, irregular heartbeats; a seizure (convulsions); severe headache, blurred vision, pounding in your neck or ears; blood circulation problems in your legs or feet - cramps, tight or heavy feeling, numbness or tingling, muscle weakness, burning pain, cold feeling, color changes (pale or blue), hip pain; heart attack symptoms - chest pain or pressure, pain spreading to your jaw or shoulder, nausea, sweating; high levels of serotonin in the body - agitation, hallucinations, fever, sweating, shivering, fast heart rate, muscle stiffness, twitching, loss of coordination, vomiting, diarrhea; or signs of a stroke - sudden numbness or weakness (especially on one side of the body), sudden severe headache, slurred speech, problems with vision or balance. Common Imitrex side effects may include: pain or tight feeling in your chest, throat, or jaw; pressure or heavy feeling in any part of your body; numbness or tingling, feeling hot or cold; dizziness, drowsiness, weakness; unusual or unpleasant taste in your mouth after using the nasal medicine; pain, burning, numbness, or tingling in your nose or throat after using the nasal medicine; or runny or stuffy nose after using the nasal medicine. This is not a complete list of side effects and others may occur. Call your doctor for medical advice about side effects. You may report side effects to FDA at 1-800-FDA-1088.