Description
Isentress (Raltegravir) is a prescription medication that is used in combination with other antiretroviral medicines to treat human immunodeficiency virus (HIV) infection in adults and children who weigh at least 4.4 pounds. It belongs to a class of drugs called integrase inhibitors that prevent the HIV virus from multiplying in the body.
You can Buy Isentress (Raltegravir) from CanPharm at an Affordable cost. We provide quality medications at a Guaranteed Low price.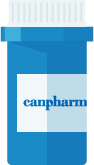 Directions
Isentress (Raltegravir) is usually taken twice a day with or without food. The dosage may vary based on the patient's age, weight, and other medical conditions. It's important to take this medication exactly as prescribed by your healthcare provider. Missing doses or stopping the medication early may increase the risk of HIV drug resistance.
Ingredients
The active ingredient in Isentress (Raltegravir) is Raltegravir potassium. Other inactive ingredients include microcrystalline cellulose, lactose monohydrate, magnesium stearate, hypromellose, titanium dioxide, triacetin, and iron oxide red.
Cautions
Isentress (Raltegravir) may cause some side effects, including diarrhea, nausea, headache, dizziness, and insomnia. Inform your healthcare provider if you have a history of liver or kidney problems, phenylketonuria (PKU), or if you are pregnant or breastfeeding. This medication may interact with other drugs, including over-the-counter medications and herbal supplements. Therefore, it's important to tell your doctor about all the medications you're taking before starting treatment with Isentress (Raltegravir).
Side Effects
Common side effects of Isentress (Raltegravir) include diarrhea, nausea, headache, dizziness, and insomnia. These side effects usually go away on their own and don't require medical attention. However, if you experience severe side effects such as allergic reactions, liver or kidney problems, or signs of infection, seek medical attention immediately.


IMPORTANT NOTE: The above information is intended to increase awareness of health information and does not suggest treatment or diagnosis. This information is not a substitute for individual medical attention and should not be construed to indicate that the use of the drug is safe, appropriate, or effective for you. See your healthcare professional for medical advice and treatment.