Description
Fenofibrate belongs to the class of medications known as fibrates. It is used in addition to diet and exercise to treat people with certain types of abnormal cholesterol levels. Fenofibrate reduces bad cholesterol (low density lipoproteins [LDL] and very low density lipoproteins [VLDL]) and triglycerides in your blood. It also increases good cholesterol (high density lipoprotein [HDL]) levels. Bringing cholesterol levels in the blood into the desired range has been shown to reduce the risks associated with heart disease, such as heart attack. This medication may be available under multiple brand names and/or in several different forms. Any specific brand name of this medication may not be available in all of the forms or approved for all of the conditions discussed here. As well, some forms of this medication may not be used for all of the conditions discussed here.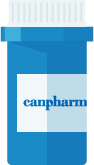 Directions
The usual adult dose of microcoated fenofibrate is 160 mg daily with the main meal. The maximum recommended dose is 200 mg daily. Swallow the tablet whole with a glass of water. For people with reduced kidney function, the starting dose is 100 mg once daily with the main meal. This starting dose may be gradually increased, if there are no side effects, until the desired effect is reached. Many things can affect the dose of a medication that a person needs, such as body weight, other medical conditions, and other medications. If your doctor has recommended a dose different from the ones listed here, do not change the way that you are taking the medication without consulting your doctor. It is important to take this medication exactly as prescribed by your doctor. If you miss a dose, take it as soon as possible and continue with your regular schedule. If it is almost time for your next dose, skip the missed dose and continue with your regular dosing schedule. Do not take a double dose to make up for a missed one. If you are not sure what to do after missing a dose, contact your doctor or pharmacist for advice. Store this medication at room temperature, protect it from light and moisture, and keep it out of the reach of children. Do not dispose of medications in wastewater (e.g. down the sink or in the toilet) or in household garbage. Ask your pharmacist how to dispose of medications that are no longer needed or have expired.
Ingredients
The active ingredient of Lipidil Supra is fenofibrate.
Cautions
Blood components: Small, temporary decreases in red and white blood cell counts have been observed in people using this medication. Your doctor will check for this with blood tests during the first year of treatment. Combination therapy: The use of fenofibrate and "statin" medications (e.g., atorvastatin, lovastatin, simvastatin) at the same time may increase the risk of muscle-related side effects. Talk to your doctor about the risks and benefits of taking the two types of medications together. Gallbladder disease: For some people, fenofibrate may cause gallstones. If you experience abdominal or stomach pain, gas, nausea, or bloating (especially after eating high-fat foods), contact your doctor. Kidney function: People with impaired kidney function may be more at risk of certain side effects when taking fenofibrate. Depending on the degree of kidney function impairment, lower doses of fenofibrate may be needed. This medication is not recommended for use by people undergoing dialysis treatment. Liver function: Fenofibrate may affect liver function. Your doctor will monitor this with blood tests. People with current or past liver problems may be more at risk for liver function changes while taking this medication. Pancreatitis: Fenofibrate can cause the pancreas to become inflamed. If you have a history of pancreatitis, discuss with your doctor how this medication may affect your medical condition, how your medical condition may affect the dosing and effectiveness of this medication, and whether any special monitoring is needed. Skeletal muscle: Treatment with fenofibrate has been associated on rare occasions with muscle pain, usually in people with reduced kidney function. Contact your doctor as soon as possible if you notice unexplained muscle pain, tenderness, or weakness, particularly if you have malaise (a general feeling of illness) or fever. Pregnancy: Strict birth control methods must be used by women of childbearing age. If you become pregnant despite birth control methods, stop taking fenofibrate and contact your doctor. Women who plan to become pregnant should stop taking fenofibrate several months in advance. Breast-feeding: It is not known if fenofibrate passes into breast milk. If you are a breast-feeding mother and are taking this medication, it may affect your baby. Talk to your doctor about whether you should continue breast-feeding. Children: The safety and effectiveness of using this medication have not been established for children. Seniors: Seniors are more likely to have reduced kidney function and may need lower doses of this medication.
Side Effects
Many medications can cause side effects. A side effect is an unwanted response to a medication when it is taken in normal doses. Side effects can be mild or severe, temporary or permanent. The side effects listed below are not experienced by everyone who takes this medication. If you are concerned about side effects, discuss the risks and benefits of this medication with your doctor. The following side effects have been reported by at least 1% of people taking this medication. Many of these side effects can be managed, and some may go away on their own over time. Contact your doctor if you experience these side effects and they are severe or bothersome. Your pharmacist may be able to advise you on managing side effects. • constipation • decreased interest in sexual activity • diarrhea • dizziness • fatigue • headache • increased skin sensitivity to sunlight • joint pain • nausea • red, itchy skin • skin rash • stomach pain • trouble sleeping Although most of these side effects listed below don't happen very often, they could lead to serious problems if you do not check with your doctor or seek medical attention. Check with your doctor as soon as possible if any of the following side effects occur: • severe stomach pain, nausea, or vomiting • signs of liver problems (e.g., dark urine, general feeling of being unwell, loss of appetite, nausea, vomiting, or yellowing of the eyes or skin) • unexplained muscle pain, tenderness, weakness, chills, or fever Stop taking the medication and seek immediate medical attention if any of the following occur: • signs of a serious allergic reaction (e.g., hives, swelling of the face or throat, difficulty breathing) • signs of a blood clot (e.g., breathlessness; coughing up blood; pain in chest, groin, or leg – especially in the calf) • signs of pancreatitis (e.g., abdominal pain on the upper left side, back pain, nausea, fever, chills, rapid heartbeat, swollen abdomen) Some people may experience side effects other than those listed. Check with your doctor if you notice any symptom that worries you while you are taking this medication.