Description
Lonsurf is a prescription cancer treatment medication that is most commonly prescribed for patients with metastatic colorectal cancer or metastatic gastric cancer treatment. It is a prescription chemotherapy drug and Lonsurf medication is often prescribed for people who have had poor results from standard chemotherapy approaches or are unable to take other chemotherapy meds for individual reasons. The combination of Trifluridine and Tipiracil work to prevent cancer cells from duplicating and tumors grow less quickly as a result.
You can buy Lonsurf with a prescription, and your best price on it will be when you order medication online from Canada and Canpharm.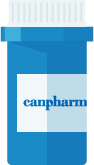 Directions
Standard Lonsurf dosing is one 15mg or 20mg tablet taken twice a day, taken with food and swallowed whole.
Lonsurf dosing usually follows a 28-day cycle to start; you will take Lonsurf in the morning and evening after meals for 5 days a week, and then not take the medication for 2 days. This will be your dosing schedule for 2 weeks, and then you will not take Lonsurf for 14 days.
This cycle may continue, or it may be amended based on your doctor's observations of your response to treatment.
Ingredients
The active ingredients in Lonsurf are Trifluridine and Tipiracil.
Cautions
Let your doctor know of any history of liver or kidney problems before starting on Lonsurf.
Using this medication may increase your risk for infections, and you should make efforts to avoid anyone who has contagious infections like the flu, measles, and chickenpox while using Lonsurf.
Tell healthcare professionals that you are using Lonsurf before receiving vaccinations or immunizations.
Older adults may be susceptible to decreased bone marrow function while using this medication.
Men using this medication should use barrier birth control methods (like condoms) with wives or partners who are pregnant or are of childbearing age.
Interactions
Negative drug interactions risks are possible between Lonsurf and other Rx and OTC medications, including Avastin / Benadryl Allergy (diphenhydramine) / capecitabine / clonidine / enoxaparin / gabapentin / lisinopril / Lomotil (atropine / diphenoxylate) / Mvasi (bevacizumab) / Norvasc (amlodipine) / omeprazole / potassium chloride / testosterone / Vitamin D3 (cholecalciferol) / Xanax (alprazolam) / Zofran (ondansetron).
Let your doctor know of all medications you are currently taking before getting a prescription and going to buy Lonsurf online.
Side Effects
Lonsurf side effects may occur, and some users may experience nausea, diarrhea, vomiting, changes in taste, hair loss, trouble breathing, or chest pains. If side effects are seen you may want to stop use and meet with your doctor again to discuss colorectal cancer chemo medication alternatives.
IMPORTANT NOTE: The above information is intended to increase awareness of health information and does not suggest treatment or diagnosis. This information is not a substitute for individual medical attention and should not be construed to indicate that use of the drug is safe, appropriate, or effective for you. See your health care professional for medical advice and treatment.