Description
Otomax is a prescription antibiotic medication used to treat dog ear infections and may be used for the same infections in cats. It is formulated with 3 active ingredients to treat pet bacterial infections with either gram-negative or gram-positive bacteria, and treating otitis externa in pets is another common prescription case for this pet Rx medication. Otomax kills bacteria, relives inflammation resulting from the infection, and may also be used to treat pet yeast infections in the ears.
You can buy Otomax for dogs with a veterinarian's prescription, and your lowest price on it will be when you order medication online from Canada and Canpharm.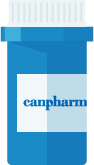 Directions
Ensure ear is dry and to clear any discharge from application site before Otomax for dogs or cats is applied.
Clipping hair around treatment area may be required depending on breed or other factors.
Dogs under 30lbs: Standard Otomax dosage is 4 drops applied into the ear 2x per day.
Dogs over 30lbs: Standard Otomax dosage is 8 drops applied into the ear 2x per day.
Continue treatment for 7 days, or longer only if indicated in your prescription.
Massage external ear canal after applying ointment.
Do not exceed dosage regulations. If infection does not clear, then you can visit your veterinarian again to discuss other ways of providing effective treatment.
Ingredients
The active ingredients in Otomax antibiotic ointment are Gentamicin, Betamethasone, and Clotrimazole.
Cautions
Using Otomax is not suitable for pets who have perforated eardrums.
Local hypersensitivity or ototoxicity may occur with use of Otomax ointment for dogs and cats.
Interactions
No negative drug interaction risks between Otomax antibiotic ointment and other pet Rx medications have been established, but it is best to let your veterinarian know of all medications your pet is currently taking before getting a prescription and going to buy Otomax online.
Side Effects
Side effects from Otomax ointment for dogs may occur, and some pets may experience vomiting, diarrhea, weight gain, or appetite loss. If side effects are seen you may want to discontinue use and speak to your veterinarian again about pet ear infection treatment options.
IMPORTANT NOTE: The above information is intended to increase awareness of health information and does not suggest treatment or diagnosis. This information is not a substitute for individual medical attention and should not be construed to indicate that use of the drug is safe, appropriate, or effective for you. See your health care professional for medical advice and treatment.