Description
Proventil HFA is a prescription asthma rescue inhaler providing fast-acting asthma relief when asthma attacks onset. Albuterol is a bronchodilator and it works to relax muscles around the airway into the lungs so that it is expanded, and the patient has significant reductions with shortness of breath and wheezing. This medication is administered at the first sign of an asthma attack coming on, and asthma rescue inhalers differ from asthma maintenance inhalers in that they are not used regularly. Proventil HFA may also be for exercise-induced asthma treatment.
You can buy Proventil HFA with a prescription, and your best price on it will be when you order medication online from Canada and Canpharm.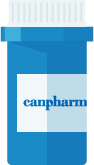 Directions
Shake the canister well before using. You can reference your prescription for information on how to test spray the inhaler if you are using a canister for the first time or if 2 weeks have passed since it was used last. Spray testing should also be done if the inhaler has been dropped. The inhaler is working properly if you see a fine mist.
Inhale this medication by mouth as directed by your doctor, and standard inhalation guidelines are 1 / 2 inhalations every four to six hours as needed. Dosage is based on your medical condition and response to treatment.
If two inhalations are prescribed, allow 1 minute to pass between them.
If you are using other inhalers at the same time, give yourself 1 minute between the use of each medication.
Using a spacer device with this medication is recommended. Your doctor or pharmacist will be able to provide more information on spacers.
Exercise-induced asthma: inhale as directed by your doctor, usually two puffs 15 - 30 minutes before exercise.
Ingredients
The active ingredient in this medication is Albuterol Sulfate.
Cautions
Let your doctor know of any history of especially of heart attack, angina, irregular heartbeat, high blood pressure, or seizure before beginning on Proventil HFA.
Medication may make you dizzy. It is best to avoid driving or operating machinery for a period of time after inhalation.
Do not exceed dosage regulations. Overdosage with Proventil HFA generic can be seriously harmful to health. Users not experiencing sufficient asthma attack relief are advised to meet with a doctor again to discuss other treatment options.
Be aware of medication expiry date.
Interactions
Negative drug interactions may occur between Proventil HFA and other Rx or OTC medications, including beta-blocker or diuretic class drugs, digoxin, monoamine oxidase inhibitors, and tricyclic antidepressants. Let your doctor know of all medications you are currently taking before getting a prescription and going to buy Proventil HFA online.
Side Effects
Side effects from Proventil HFA may occur, and some users may have nervousness, tremors, headache, mouth/throat dryness or irritation, taste changes, cough, nausea, or dizziness. If Proventil HFA side effects are experienced you may choose to stop use and meet with your doctor again to discuss other asthma rescue inhaler options.
IMPORTANT NOTE: The above information is intended to increase awareness of health information and does not suggest treatment or diagnosis. This information is not a substitute for individual medical attention and should not be construed to indicate that use of the drug is safe, appropriate, or effective for you. See your health care professional for medical advice and treatment.