Description
Questran Lite is a prescription medication for cholesterol control that comes as an oral powder and is mixed into liquids for administration. Cholestyramine is a bile acid-binding resin that removes bile acid from the body, and this promotes the liver making more bile acid by using cholesterol in the blood. It will be prescribed along with guidelines for dietary changes to effectively lower cholesterol levels and minimize the risks that come when high cholesterol is left untreated. Cholestyramine may also be indicated for itching caused by bile duct disease or partial biliary obstruction.
You can buy Questran Lite with a prescription, and your best price on it will be when you order medication online from Canada and Canpharm.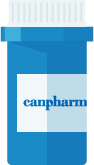 Directions
Medication is mixed into liquid (water, juice, milk) and taken orally one / two times a day as indicated in your prescription.
Use the provided scoop to measure doses or you may be using individual Questran Lite sachets. The medication should be mixed into at least 2 to 6 ounces (60 to 180 milliliters) of your liquid.
Ensure you have taken the entire dose by rinsing your glass with more liquid and drinking the rinse liquid.
Questran Lite powder can also be mixed into watery soups, applesauce, or pulpy fruit which produces a lot of juice when pulped (peaches or pineapple being examples).
Ingredients
The active ingredient in Questran Lite is Cholestyramine.
Cautions
Let your doctor know of any history of kidney disease, constipation, or chronic hemorrhoids before beginning with Questran Lite.
Medication may negatively affect the the absorption of certain nutrients by the body, and it may be necessary to take a multivitamin supplement while using Questran Lite. And additional dietary fiber and / or a laxative may also be needed.
Medication may contain aspartame. Use it with caution if you have diabetes, phenylketonuria (PKU), or any other condition that specifies limiting or avoiding sugar substitutes like aspartame in your diet.
Keeping mix in your mouth too long may harm your teeth. Swallow Questran Lite powder mixture quickly.
Interactions
Negative drug interactions may occur between Questran Lite and other Rx or OTC medications, including aspirin / atenolol / atorvastatin / azithromycin / celecoxib / codeine / carvedilol / duloxetine / doxycycline / venlafaxine / gabapentin / adalimumab / furosemide / atorvastatin / lisinopril / metformin / oxycodone / prednisolone / omeprazole).
Let your doctor know of all medications you are currently taking before getting a prescription and going to buy Questran Lite online.
Side Effects
Side Effects from using Questran Lite may occur, and some users may have constipation, stomach or abdominal pain, gas, nausea, or vomiting. If side effects are experienced you may choose to stop use and meet with your doctor again to discuss other oral cholesterol lowering medications.
IMPORTANT NOTE: The above information is intended to increase awareness of health information and does not suggest treatment or diagnosis. This information is not a substitute for individual medical attention and should not be construed to indicate that use of the drug is safe, appropriate, or effective for you. See your health care professional for medical advice and treatment.