Description
Repatha is a prescription cholesterol medication for LDL cholesterol reduction and suited for those who are at risk of heart attack due to high blood cholesterol. It is part of the statin class of drugs and this medication works by suppressing the actions of the PCSK9 protein so the liver is able to clear more LDL cholesterol. Doctors will recommend it for people with an inherited propensity for high bad cholesterol (familial hypercholesterolemia) but Repatha may also be prescribed for people who have already had cardiac events with a risk of future ones being higher due to individual health factors.
You can buy Repatha injection with a prescription, and your lowest Repatha cost is going to be when you buy medication online from Canada and CanPharm.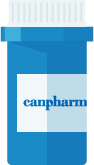 Directions
Administer a single injection of Repatha once every two weeks, or as directed in your prescription. Injection is under skin and can be made into back of uper arm, stomach, or thigh.
If you miss a dose you can take it as soon as you remember, but if more than 7 days have passed since your previous dose the next dose should be injected based on your original schedule.
Ingredients
The active ingredient in Repatha is Evolucumab
Cautions
Let your doctor know of all medical conditions you have before starting on this medication
Medication is to be stored in a refrigerator between 36 ° and 46 ° F
Injector may not be suitable for some people who are allergic to latex or rubber
Tell your doctor if you are pregnant or breastfeeding before beginning on this medication
Do not exceed dosage regulations and be aware of medication expiry date
Interactions
Negative drug interactions between Repatha and other Rx medications are possible, including efgartigimod alfa. Let your doctor know of all medications you are currently taking before getting a prescription and going to buy Repatha injection online.
Side Effects
Repatha side effects are rare, but some users may experience runny nose, sore throat, cold symptoms, back pain, high blood sugar levels, or redness, pain or bruising at the injection site. If Repatha side effects occur for you then you may want to discontinue use and meet with your doctor again to discuss cholesterol lowering medication alternatives.
IMPORTANT NOTE: The above information is intended to increase awareness of health information and does not suggest treatment or diagnosis. This information is not a substitute for individual medical attention and should not be construed to indicate that use of the drug is safe, appropriate, or effective for you. See your health care professional for medical advice and treatment.