Description
Requip is a prescription medication for Parkinson's disease treatment that may also be used for restless legs syndrome. It effectively reduces the tremors, stiffness, slowed movement and dyskinesia from Parkinson's and the effectiveness of the medication is in the way it rebuilds dopamine neurotransmitter levels in the brain. It is common to start at a lower Requip dosage to start and then have your doctor monitor effectiveness before increasing the dose if needed.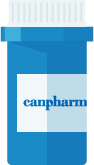 Directions
Take medication exactly as indicated in your prescription. The standard Requip dosage for Parkinson's treatment is 3x per day with or without food, but taking with food is advisable if you experience nausea because of the medication.
Requip dosage for restless legs treatment is 1x daily and 1 to 3 hours before bedtime.
Ingredients
The active ingredient in Requip is Ropinirole.
Cautions
Let your doctor know of any history of heart problems, irregular heartbeat, mental or mood disorders, walking difficulties, kidney or liver problems, high / low blood pressure, or sleep disorders like sleep apnea or narcolepsy before beginning on Requip.
This medication may make you dizzy or drowsy.
Requip side effects may be more pronounced for older adults.
Interactions
There risk of negative drug interactions exists between Requip and other Rx medications, including chlorpromazine / haloperidol / thiothixene / metoclopramide / cimetidine / fluvoxamine / mexiletine / omeprazole / rifampin / opioid pain or cough relievers / alprazolam / lorazepam / zolpidem / carisoprodol / cyclobenzaprine / cetirizine / diphenhydramine.
Let your doctor know of all medications you are currently taking before getting a prescription and proceeding to buy Requip online.
Side Effects
Requip side effects may occur, and some users may experience nausea, vomiting, constipation, dizziness, drowsiness, weakness, unusual sweating, headache, or dry mouth. If Requip side effects are seen you may want to stop use and meet with your doctor again to discuss Parkinson's disease treatment medication options.
IMPORTANT NOTE: The above information is intended to increase awareness of health information and does not suggest treatment or diagnosis. This information is not a substitute for individual medical attention and should not be construed to indicate that use of the drug is safe, appropriate, or effective for you. See your health care professional for medical advice and treatment.