Description
Skyrizi is a prescription plaque psoriasis treatment medication administered as an injection for moderate to severe cases with raised, scaly skin patches being more pronounced. It is often recommended by doctors when used in light therapy for psoriasis or systemic therapy for plaque psoriasis. Skyrizi may also be for psoriatic arthritis or for Crohn's disease. For any treatment application the active ingredient in Skyrizi medication - Risankizumab-Rzaa - serves as an antibody drug that binds to the IL23 inflammatory protein in the body and suppresses its activity.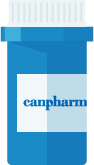 Directions
Skyrizi dosing has a standardized schedule where a single injection is given during the 1st week of your treatment plan, and then a 2nd injection follow-up injection is given after four weeks. After this 1 Skyrizi injection and injection will then be administered once every 12 weeks (3 months).
Injection site can be the front of your thighs (at the top part of your leg between the knee and hip) or you may also inject the lower part of your abdomen but make sure the injection is at least 2" away from navel. Sitting in a chair when administering the injection is advised.
Cautions
Let your doctor know of any history of liver problems, tuberculosis, or recurring infections before beginning on Skyrizi medication.
Using Skyrizi may not be possible for those with an upcoming vaccination scheduled.
Use this medication when pregnant or breastfeeding only if a doctor approves that course of action.
Store SKYRIZI in the refrigerator between 36°F to 46°F (2°C to 8°C).
Do not freeze or shake this medication.
Be aware of expiry date for medication.
Interactions
Negative drug interactions between Skyrizi and other Rx medications are possible, including other immunosuppressants and particularly with live vaccines. Let your doctor know of all medications and supplements you are currently taking before getting a prescription and proceeding to buy Skyrizi online.
Side Effects
Side effects from using Skyrizi may occur, and some people may experience upper respiratory infections, headache, fatigue, injection site reactions, fungal skin infections, injection site reactions, low red blood cells (anemia), fever, back pain, or urinary tract infections. If side effects are seen you can discontinue use and meet with your doctor again to discuss your plaque psoriasis treatment alternatives.
IMPORTANT NOTE: The above information is intended to increase awareness of health information and does not suggest treatment or diagnosis. This information is not a substitute for individual medical attention and should not be construed to indicate that use of the drug is safe, appropriate, or effective for you. See your health care professional for medical advice and treatment.