Description
Stugeron is a prescription motion sickness treatment medication that may also be prescribed to treat tinnitus or vertigo as well as other issues related to the inner ear. The active ingredient in the medication - Cinnarizine - is an antihistamine medication that will block the release of histamines that occur when the nerves of the inner ear are overstimulated. Travel sickness treatment is the most common prescription case for Stugeron 15mg, but it may also treat Meniere's disease. It is a sedating antihistamine and users should be aware of the likelihood of becoming drowsy after taking Stugeron.
You can buy Stugeron with a prescription, and your best price on it will be when you order medication online from Canada and Canpharm.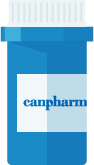 Directions
Medication should be taken with food, and ideally taken at the same time each day if dosage requires Stugeron to be taken daily.
Motion sickness:
Stugeron 15mg dosage is to take 2 tablets 2 hours before travel. Children will take 1 tablet at the same time.
Tinnitus:
Stugeron 15mg will be taken at a frequency determined by your doctor and indicated in your prescription.
Meniere's disease:
Stugeron 15mg or 25mg will be taken at a frequency determined by your doctor and indicated in your prescription.
Ingredients
The active ingredient in Stugeron is Cinnarizine.
Cautions
Let your doctor know if you have any history of Parkinson's disease, liver or kidney problems, or porphyria before starting on Stugeron.
People with skin allergies may want to have a skin allergy test done before starting on Stugeron to determine the suitability of using this medication.
Medication causes drowsiness, and it is advisable to not drive or operate machinery after taking Stugeron medication.
You should limit alcohol consumption while using Cinnarizine.
Interactions
Negative drug interactions may occur between Stugeron and other Rx or OTC medications, including chlorpromazine / haloperidol / diazepam / temazepam / chlorphenamine / promethazine / hydroxyzine / zopiclone / morphine / codeine / tramadol / fentanyl / amitriptyline.
Let your doctor know of all medications you are currently taking before getting a prescription and proceeding to buy Stugeron online.
Side Effects
Stugeron side effects may occur, and some users may have drowsiness, weight gain, indigestion, nausea, lethargy, fatigue, abdominal pain, vomiting, or excessive sweating. If side effects are seen you may want to stop use and meet with your doctor again to discuss travel sickness treatment medication options.
IMPORTANT NOTE: The above information is intended to increase awareness of health information and does not suggest treatment or diagnosis. This information is not a substitute for individual medical attention and should not be construed to indicate that use of the drug is safe, appropriate, or effective for you. See your health care professional for medical advice and treatment.