Description
Synjardy XR is a prescription Type 2 diabetes treatment medication that is a combination of 2 active ingredients and is known to produce lower A1c hemoglobin test scores and lower fasting blood sugar levels for many diabetics who don't have the same level of effectiveness from other Rx medications geared to treat Type 2 diabetes. It combines the effectiveness of biguanide medications with that of SGLT2 inhibitors for better blood glucose control. This XR (extended release) version of Synjardy also has the advantage of only needing to be taken 1x daily.
You can buy Synjardy XR with a prescription, and your best price on it will be when you order medication online from Canada and Canpharm.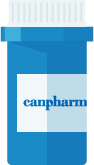 Directions
Your doctor will specify which of the Synjardy XR dosing quantities you should be using between the 5 / 500mg, 5 / 1000mg, 12.5mg / 500mg, and 12.5mg / 1000mg strengths
Take one tablet whole with food 1x a day in the morning. Do not split, crush, dissolve, or chew tablets
Your doctor may stipulate you take a higher starting dose, and then move to a lower maintenance dose depending on how well you begin to control your blood glucose
Ingredients
The active ingredients in Synjardy XR are Empagliflozin and Metformin
Cautions
Tell your doctor if you have any history of lactic acidosis, renal impairment, other liver or kidney problems, genital yeast infections, or alcohol abuse before starting on Synjardy XR
You should also tell your doctor is you have any surgeries scheduled in the near future
Medication should be stored at room temperature (77° F and 25° C) and in a tightly sealed container away from light
Be aware of medication expiry date
Interactions
There is the possibility of negative drug interactions between Synjardy XR and other Rx medications, including amlodipine / aspirin / atorvastatin / fenofibrate / gabapentin / hydrochlorothiazide / levothyroxine / lisinopril / losartan / metformin / metoprolol / montelukast / omeprazole / Ozempic (semaglutide) / rosuvastatin / tamsulosin / Trulicity (dulaglutide) / Vitamin D3 (cholecalciferol)
Tell your doctor of all medications you are currently taking before receiving a prescription and proceeding to buy Synjardy XR online
Side Effects
Synjardy XR side effects are uncommon, but some users may experience bladder pain, bloody or cloudy urine, blurred vision, chills, confusion, appetite loss, dizziness, urinary urges, back or side pain, muscle cramps, nausea, or fatigue. If Synjardy XR side effects are experienced you may want to discontinue use and speak with your doctor again regarding Type 2 diabetes treatment alternatives.
IMPORTANT NOTE: The above information is intended to increase awareness of health information and does not suggest treatment or diagnosis. This information is not a substitute for individual medical attention and should not be construed to indicate that use of the drug is safe, appropriate, or effective for you. See your health care professional for medical advice and treatment.