Description
This combination product contains 2 medications: adapalene and benzoyl peroxide. Together, these medications belong to the group of medications called acne therapy. It is used to treat acne on the face, chest, and back. Adapalene works by unplugging blocked oil glands in the skin. Benzoyl peroxide works by reducing inflammation and killing bacteria associated with acne. This medication should start to work within 4 to 8 weeks and you should see additional improvement as you continue to use this gel.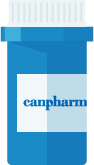 Directions
Apply a thin film of gel to the affected areas of the face, chest, and back once daily in the evening after washing gently with a non-medicated cleanser and blotting dry with a soft towel. 4 pea-sized amounts should be enough to cover your whole face (e.g., one on the forehead, chin, and each cheek). Do not spot apply ­– cover the entire affected area. Avoid the eyes, lips, corners of the nose, and mucous membranes (e.g., inside the mouth or nose). Do not apply the gel to cuts, broken skin, eczema, or sunburned skin. Many things can affect the dose of medication that a person needs, such as body weight, other medical conditions, and other medications. If your doctor has recommended a dose different from the ones listed here, do not change the way that you are taking the medication without consulting your doctor. It is important to use this medication exactly as prescribed by your doctor. If you miss a dose, skip the missed dose and continue with your regular dosing schedule. Do not apply more gel to make up for a missed application. If you are not sure what to do after missing a dose, contact your doctor or pharmacist for advice. Store this medication at room temperature, protect it from freezing, keep it tightly closed, and keep it out of the reach of children. This medication should be used within a period of 6 months after opening for the TactuPump and 3 months after opening for the TactuPump Forte. Do not dispose of medications in wastewater (e.g. down the sink or in the toilet) or in household garbage. Ask your pharmacist how to dispose of medications that are no longer needed or have expired.
Ingredients
The active ingredient in TactuPump is adapalene - benzoyl peroxide.
Cautions
Proper use: This medication should only be applied to the skin. Do not apply on eyes, lips, corners of the nose, mucous membranes (e.g., inside the mouth or nose), broken skin, cuts, sunburned skin, or open wounds. If the gel is accidently applied to these areas, rinse thoroughly with water. You should not use other acne medications or treatments applied to the skin while you are using this medication, unless recommended by your doctor. Also, avoid using other products that may irritate the skin (e.g., medicated or abrasive soaps, cosmetics that have strong skin-drying effects, and products with high concentrations of alcohol, astringents, spices, or limes). Avoid waxing, chemical hair removal, chemical peels, dermabrasion, or laser treatments on skin that is treated with this medication. It is recommended that you use cosmetics that do not clog your pores while using this medication. This medication may bleach hair and coloured fabric. Be careful when applying this medication around the hairline and use white pillowcases and sheets. Skin irritation: Skin redness, dryness, scaling, burning, or itchiness may occur, especially during the first 4 weeks of using this medication. These effects are usually mild and lessen with continued treatment. If you experience severe skin irritation or if skin irritation that continues or worsens, contact your doctor. Your doctor may recommend a moisturizer, change your dose, or change how often you use the medication. Sun exposure: Avoid exposure to excessive sunlight (including sunlamps and tanning beds) while using this medication. Use sunscreen (SPF 15 or higher) and protective clothing over treated areas when sun exposure cannot be avoided. Extreme wind and cold may also irritate your skin while using this medication. Pregnancy: This medication should not be used during pregnancy. If you can become pregnant, you should use effective birth control while you are using this medication. If you become pregnant while using this medication, stop using it and contact your doctor immediately. Breast-feeding: It is not known if adapalene - benzoyl peroxide passes into breast milk. If this medication is applied to the chest area, an infant may come into contact with the medication or ingest it from the mother's skin, affecting the child. If you are a breast-feeding mother and are taking this medication, it may affect your baby. Talk to your doctor about whether you should continue breast-feeding. Children: The safety and effectiveness of using TactuPump have not been established for children under 9 years old. The safety and effectiveness of the higher concentration medication TactuPump Forte have not been established in children under 12 years old. Seniors: The safety and effectiveness of using this medication have not been established for people 65 years of age and older.
Side Effects
The following side effects have been reported by at least 1% of people taking this medication. Many of these side effects can be managed, and some may go away on their own over time. Contact your doctor if you experience these side effects and they are severe or bothersome. Your pharmacist may be able to advise you on managing side effects. • dry skin • itchy skin • scaling skin • skin irritation (redness, burning, stinging) Although most of the side effects listed below don't happen very often, they could lead to serious problems if you do not seek medical attention. Check with your doctor as soon as possible if any of the following side effects occur: • swollen, blistered, or sunburned skin • very dry, itchy, or red skin Stop taking the medication and seek immediate medical attention if any of the following occur: • signs of a severe allergic reaction (e.g., hives; difficulty breathing; or swelling of the mouth, lips, tongue, or throat) Some people may experience side effects other than those listed. Check with your doctor if you notice any symptom that worries you while you are taking this medication.