Description
Transderm-V is a prescription motion sickness transdermal patch medication that is applied directly onto the skin and provides relief from nausea and vomiting caused by motion sickness.

It may also be prescribed for recovery from anesthesia after surgery, and Scopolamine works by restoring and rebalancing acetylcholine and norepinephrine transmitters that result in motion sickness when they become imbalanced due to brain stimuli being caused through the optic nerves of the eyes. This medication is proven effective for providing up to 3 days of motion sickness relief.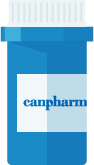 Directions
Peel off clear backing on the patch and apply it to a clean, dry, hairless area of the skin behind the ear. Product is not to be located anywhere else on the body. Behind-ear location only.
Press firmly for at least 30 seconds to make sure the patch adheres well to skin, and that edges do not come up.
Motion sickness: apply Transderm V patch 4 hours in advance of activity / travel form you expect to cause motion sickness.
Post-surgery: Apply patch as directed by your doctor, and the usual timeline is to apply your Transderm V patch the night before your surgery is scheduled.
Dispose of used patches as explained in your prescription.
Ingredients
The active ingredient in Transderm-V is Scopolamine.
Cautions
Let your doctor know if you have any history of breathing problems like asthma or emphysema, closed-angle glaucoma, heart disease, high blood pressure, seizures, stomach/intestine/esophagus problems, hyperthyroidism, enlarged prostate and / or urinary difficulties, mental or mood disorders, liver or kidney disease, or myasthenia gravis before starting the Transderm V patch.
Inform the technician if you are to have an MRI when wearing a Transderm V patch.
Medication can impede natural sweating, increasing the risk of heat stroke while you are using the patch in extreme heat environments. Use with caution.
Older adults may be more prone to Transderm V patch side effects.
Interactions
Negative drug interactions are possible between Transderm-V and other Rx medications, including alprazolam, diazepam, zolpidem, muscle relaxants, and opioid pain relievers like codeine. Let your doctor know of all medications you are currently taking before getting a prescription and proceeding to buy Transderm-V online and getting a Transderm V patch from Canada.
Side Effects
Transderm-V side effects can occur, and some users may have blurred vision, widened pupils, dry mouth, drowsiness, dizziness, decreased sweating, constipation, or mild itching and redness. If side effects are seen you may want to stop use and speak to your doctor again about motion sickness treatment options.


IMPORTANT NOTE: The above information is intended to increase awareness of health information and does not suggest treatment or diagnosis. This information is not a substitute for individual medical attention and should not be construed to indicate that use of the drug is safe, appropriate, or effective for you. See your health care professional for medical advice and treatment.