Description
Triumeq is a prescription medication for effective HIV-1 treatment and is a 1x-daily complete treatment for HI-1V infection. By interfering with the enzymes needed by HIV to copy cells, Triumeq slows the progress of HIV and the individual's viral load decreases significantly. As a result, they have less chance of developing life-threatening infections because of their immune system function weakening due to HIV.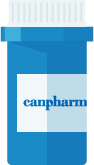 Directions
Standard Triumeq dosage for adults and children weighing 40 kilograms (kg) or more is one tablet 1x a day.

Children weighing less than 40 kg should have their dosage be determined by a doctor.
Ingredients
The active ingredients in Triumeq medication are Abacavir, Dolutegravir, and Lamivudine.
Cautions
Triumeq may not be approved for individuals with renal failure, a history of kidney disease, or liver dysfunction.

Triumeq should be taken on this schedule; 2 hours before or 6 hours after taking any antacid medication like Alka-Seltzer, Gaviscon, Maalox, Milk of Magnesia, Pepto-Bismol, Rolaids, or Tums, plus any containing iron, calcium, and magnesium.

Triumeq is not to be taken if you are pregnant or plan to become pregnant unless your doctor approves it.

Interactions
Negative drug interactions are possible between Triumeq and other Rx medications, including Dofetilide, Kivexa, Ziagen and Trizivir. There is also an interaction risk between Triumeq and the OTC herbal supplement St. John's Wort.
Let your doctor know of all medications you are currently taking before getting a prescription and proceeding to buy Triumeq online.
Side Effects
Triumeq side effects are not common, but some users may have experiences with nausea, vomiting, diarrhea, headache, abdominal discomfort/pain. Triumeq side effects that are severe or continue should lead you to discontinue use and talk to your doctor again regarding HIV-1 treatment options.


IMPORTANT NOTE: The above information is intended to increase awareness of health information and does not suggest treatment or diagnosis. This information is not a substitute for individual medical attention and should not be construed to indicate that use of the drug is safe, appropriate, or effective for you. See your health care professional for medical advice and treatment.