Description
Uptravi is a prescription pulmonary arterial hypertension treatment medication. It counters blood flow restriction due to tightened or scarred lung arteries with this condition. Lowering blood pressure in the lungs means less chance that patients with PAH will suffer from serious levels of chronic oxygen deprivation or lung failure in worst case scenarios. Uptravi medication promotes less strain on the heart when a person has PAH, and this medication is often started with dose titration to determine ideal treatment dose for the individual patient.
You can buy Uptravi with a prescription, and your best Uptravi price will be when you order medication online from Canada and Canpharm.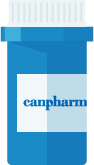 Directions
Standard starting dose is one 200mcg Uptravi tablet taken twice a day, once in the morning and 1 tablet again in the evening. Dose will usually be increased from that point anywhere up to Uptravi 1600mcg depending on the dosage strength where best results are achieved. Tablets may be taken with or without food.
Ingredients
The active ingredient in Uptravi is Selexipag.
Cautions
Let your doctor know of any history of liver disease or PVOD (pulmonary veno-occlusive disease) before starting on Uptravi.
Only change your dosage or stop taking your medication if your doctor instructs you to do this.
Do not split, chew, or crush tablets.
Using Uptravi medication use may not be appropriate for women who are pregnant, breastfeeding, or plan to become pregnant.
Medication should be stored at room temperature and out of the reach of children.
Interactions
There may be negative drug interaction between Uptravi and other Rx medications, including gemfibrozil and clopidogrel. Let your doctor know of all medications you are currently taking before getting a prescription and proceeding to buy Uptravi online.
Side Effects
Side effects from using Uptravi may occur, and some users may experience headache, diarrhea, pain in the jaw, nausea, muscle pain, or vomiting. If side effects are seen you may want to stop use and meet with your doctor again to discuss other pulmonary arterial hypertension treatment approaches.
IMPORTANT NOTE: The above information is intended to increase awareness of health information and does not suggest treatment or diagnosis. This information is not a substitute for individual medical attention and should not be construed to indicate that use of the drug is safe, appropriate, or effective for you. See your health care professional for medical advice and treatment.