Description
Valdoxan is an antidepressant medication available by prescription and used to treat depression and often prescribed for depression with anxiety treatment. This medication first came to market targeting patients having major depressive disorder, but as the first antidepressant with a non-monoaminergic component it soon after showed promise for major depression disorder with severe anxiety treatment. Valdoxan 25mg works as a MT1 and MT2 melatonergic receptors agonist and this 5-HT2C antagonist e-synchronizes circadian rhythms for less depression severity and reduced anxiety levels.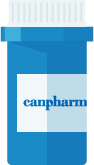 Directions
Standard dosage is to take a single Valdoxan 25mg tablet once daily at bedtime. Dosage may vary based on a doctor's discretion and you must always take your medication exactly as indicated in your prescription.
Dosage may be adjusted to 50 mg (2 x 25 mg tablets) taken at bedtime if after 2 weeks agomelatine treatment has not been effective enough for depression / anxiety relief.
Ingredients
The active ingredient in Valdoxan is Agomelatine.
Cautions
Let your doctor know if you have any history of liver disease, hepatic failure, or general poor liver health / function before starting on Valdoxan. Also let them know of any history of suicidal thoughts or prior suicide attempts before starting on this medication.
Patients over 75 years of age may not be eligible for using Valdoxan.
Always take medication as consistently as indicated in your prescription. Failing to take medication for any more than a day or two may detract from the medication's effectiveness for depression treatment and less improvement with mood / energy and focus.
Do not take a make-up dose if you forget to take your medication for the day. In this event, begin taking it at the same time the next day instead. Never take 2 tablets at one time to make up for missing a day's dose.
Only stop taking Valdoxan medication if you have discussed with your doctor and they have approved this discontinuation of medication use.
Interactions
Negative drug interactions between Valdoxan and other Rx medications may occur, including fluvoxamine and ciprofloxacin, a very common antibiotic medication. Let your doctor know of all medications you are currently taking before receiving a prescription and going to buy Valdoxan online.
Side Effects
Valdoxan side effects may occur, and some users may have anxiety, back pain, constipation, diarrhea, dizziness, drowsiness, excessive sweating, fatigue, insomnia, migraines and headaches, or nausea. If side effects from Valdoxan are experienced you may want to stop use and meet with your doctor again to discuss depression with anxiety treatment medication alternatives.
IMPORTANT NOTE: The above information is intended to increase awareness of health information and does not suggest treatment or diagnosis. This information is not a substitute for individual medical attention and should not be construed to indicate that use of the drug is safe, appropriate, or effective for you. See your health care professional for medical advice and treatment.