Description
Chemical Name: ESTRADIOL (es-tra-DYE-ol)
VIVELLE DOT is a female hormone usually given to women who no longer are able to produce the proper amount of hormones such as estrogen. It can help control moderate to severe symptoms of menopause, including hot flashes, night sweats, vaginal dryness and atrophy. VIVELLE DOT also helps reduce the risk of postmenopausal osteoporosis, which is a major health concern for women after menopause.
The generic Vivelle Dot patches are larger and oval in shape.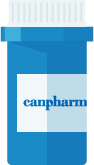 Directions
The dosage for VIVELLE DOT will be different for each patient. Closely follow the directions on the label. If your dose is different, do not change it unless your doctor tells you to do so. The amount of medication that you take depends on the strength of the medicine. Also, the number of doses you take each day, the time allowed between doses, and the length of time you take the medicine depend on the medical problem for which you are using the medicine.
Cautions
All estrogen therapies carry risk because they can increase the chances of getting cancer of the uterus (womb). You should report any unusual vaginal bleeding right away while you are taking estrogens. Vaginal bleeding after menopause may be a warning sign of cancer of the uterus (womb).
Do not use estrogens (with or without progestins) to prevent heart disease, heart attacks or strokes. Using estrogens (with or without progestins) may increase your chances of getting heart attacks, strokes, breast cancer, and blood clots. Using estrogens may increase your risk of dementia (decline in memory and thinking skills).
VIVELLE DOT (estrogen therapy) should not be used if you:
are allergic to CombiPatch or any of its ingredients
have unusual vaginal bleeding
currently have or have had certain cancers, including cancer of the breast or uterus
had a stroke or heart attack in the recent past (for example, in the past year)
currently have or have had blood clots
currently have or have had liver problems
may be pregnant
To make sure you can safely use VIVELLE DOT, tell your doctor if you have any of these other conditions:
high blood pressure, angina, or heart disease
high cholesterol
liver disease
kidney disease
asthma
epilepsy or other seizure disorder
migraines
diabetes
depression
gallbladder disease
if you have had your uterus removed (hysterectomy)
Side Effects
All medications may cause side effects, but usually patients have no, or minor, side effects. Common side effects of VIVELLE DOT may include:
headaches
breast tenderness
back pain
Less serious side effects may include:
nausea, vomiting, loss of appetite;
swollen breasts;
acne or skin color changes;
decreased sex drive, impotence, or difficulty having an orgasm;
migraine headaches or dizziness;
vaginal pain, dryness, or discomfort;
swelling of your ankles or feet;
depression; or
changes in your menstrual periods, break-through bleeding
Serious side effects may include:
chest pain or heavy feeling, pain spreading to the arm or shoulder, nausea, sweating, general ill feeling
sudden numbness or weakness, especially on one side of the body
sudden severe headache, confusion, problems with vision, speech, or balance
pain or swelling in your lower leg
abnormal vaginal bleeding
pain, swelling, or tenderness in your stomach
jaundice (yellowing of the skin or eyes)
a lump in your breast
IMPORTANT NOTE: The above information is intended to increase awareness of health information and does not suggest treatment or diagnosis. This information is not a substitute for individual medical attention and should not be construed to indicate that use of the drug is safe, appropriate, or effective for you. See your health care professional for medical advice and treatment.