Description
Voltaren is a prescription non-steroidal anti-inflammatory medication used for arthritis pain relief. It is commonly taken for osteoarthritis pain relief but may also be used for joint inflammation resulting from minor injury. The active ingredient in Voltaren oral – Diclofenac – works to limit the production of pain-signaling chemicals in the body called prostaglandins. Voltaren oral may also be prescribed for ankylosing spondylitis treatment or for other conditions where intense pain caused by inflammation is one symptom of a condition. Pain relief after cataract surgery is another possibility.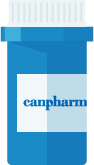 Directions
The standard Voltaren dosage is to take one 75mg tablet 2 to 4 times a day depending on what is indicated in your prescription and your individual pain relief needs. Tablets should be taken whole and with water. It may be better to take this medication with food or milk if stomach upset occurs, and you should not lie down for at least 10 minutes after taking oral Voltaren.

Do not increase indicated dosage or take more than 4 Voltaren tablets in a day. If pain reliever medication is not providing sufficient relief you should speak to your doctor again.
Ingredients
The active ingredient in Voltaren oral is Diclofenac.
Cautions
Use of Voltaren may not be appropriate if you have a history of heart disease, high blood pressure, ulcers, liver or kidney disease, asthma, or if you are smoker. Speak with a doctor if you have any of these concerns. Anyone under the age of 18 should get a doctor's approval before using Voltaren for pain relief It is best to limit alcohol consumption and not smoke while using Voltaren medication.

Medication should not be taken by women who are pregnant or breastfeeding unless a doctor approves this action.

Reading product label for additional safety information is recommended.
Interactions
Negative drug interactions between Voltaren and other pain reliever medications may be possible, and if you are taking other Rx or OTC medications regularly it will be best to speak with a doctor or medical health professional to be assured that using Voltaren oral will not put you at risk for these potential interactions before you proceed to buy Voltaren online.
Side Effects
Voltaren side effects are uncommon, but some users may experience upset stomach, nausea, heartburn, diarrhea, constipation, gas, headache, drowsiness, dizziness, or blurred vision. If side effects are experienced you may want to stop use and talk to a medical health professional about inflammation pain relief treatment alternatives.


IMPORTANT NOTE: The above information is intended to increase awareness of health information and does not suggest treatment or diagnosis. This information is not a substitute for individual medical attention and should not be construed to indicate that use of the drug is safe, appropriate, or effective for you. See your health care professional for medical advice and treatment.