Description
Xarelto is a prescription blood clot prevention medication used to reduce the risk of heart attack, embolism, or stroke resulting from blood clots when atrial fibrillation (irregular heartbeat) occurs. It is most commonly prescribed when individuals are set to have hip or knee replacement surgery and the risk of such events are at their highest accordingly. Rivaroxaban is an anticoagulant that prevents blood cells from being able to clump together and form clots. Xarelto may also be prescribed to treat DVT (deep vein thrombosis) and in rarer instances it is a medication for blood clot prevention following Fontan procedure for children.
You can buy Xarelto with a prescription, and your best price on it will be when you order medication online from Canada and Canpharm.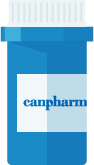 Directions
Xarelto and any generic for Xarelto will come is 2.5mg, 5mg, 10mg and 20mg strengths.
Standard Xarelto dosage for DVT prevention or to prevent a pulmonary embolism is 15 mg twice each day for 21 days. Then the dose is lowered to 20 mg once each day.
Standard dosage for blood clot prevention after surgery is 10mg taken once daily for a duration determined by your doctor.
Atrial fibrillation: 20mg once daily.
Fontan procedure: Xarelto dosage is based on the child's body weight, and this will be clearly indicated in the prescription as well as made clear in discussion with your doctor prior to surgery.
Ingredients
The active ingredient in Xarelto is Rivaroxaban.
Cautions
Let your doctor know of any history of high blood pressure (hypertension), hemorrhagic stroke, stomach bleeding or ulcers, genetic spinal defect, spinal taps or having an epidural anaesthesia, liver or kidney problem, or antiphospholipid syndrome (sticky blood disease / Hughes' disease) before starting on Xarelto.
Any surgery requiring anaesthesia may require you to stop using Xarelto for a period of time before the surgery.
Use Xarelto when pregnant only if approved to do so by your doctor.
Keep medication away from moisture and heat.
Interactions
Negative drug interactions may occur between Xarelto and other Rx or OTC medications, including amlodipine / aspirin / atorvastatin / carvedilol / furosemide / gabapentin / levothyroxine / lisinopril / losartan / metformin / metoprolol / omeprazole / pantoprazole / potassium chloride / prednisone / tamsulosin / tramadol / cyanocobalamin / cholecalciferol.
Let your doctor know of all medications you are currently taking before getting a prescription and proceeding to buy Xarelto online.
Side Effects
Side effects from Xarelto may occur, and some users may have pain in arms or legs, muscle pain, or itching. If side effects are seen you may want to stop use and meet with your doctor again to discuss blood clot prevention medication alternatives.
IMPORTANT NOTE: The above information is intended to increase awareness of health information and does not suggest treatment or diagnosis. This information is not a substitute for individual medical attention and should not be construed to indicate that use of the drug is safe, appropriate, or effective for you. See your health care professional for medical advice and treatment.